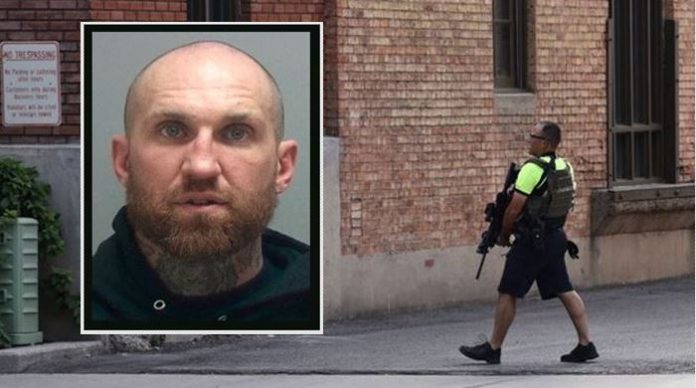 SALT LAKE CITY, Utah, Sept. 26, 2018 (Gephardt Daily) — The Salt Lake County District Attorney's Office has determined that an officer-involved shooting in the Rio Grande area earlier this month was legally justified.
The determination on the Sept. 5 incident involving suspect Michael Zahn was made after an Officer Involved Critical Incident review was conducted, a letter from the District Attorney's Office said.
West Valley City Police and the District Attorney's Office investigated the incident, as state law requires all officer-involved critical incidents to be investigated by an outside agency.
Zahn, 35, died of an apparent self-inflicted gunshot wound after he fled from police on Sept. 5, but an officer on the scene also fired his weapon twice during a foot pursuit. Police later determined the officer's shots did not hit Zahn or any anyone else.
Salt Lake City Police released body-cam footage on Sept. 19 to support this sequence of events (see below).
A letter from the DA's office to SLCPD Police Chief Mike Brown said: "Neither Mr. Zahn nor anyone else was injured due to Officer Noble's use of deadly force," a letter from the D.A.'s office to SLCPD Chief Mike Brown says. "Mr. Zahn did, however, commit suicide shortly thereafter, prior to being apprehended by law enforcement."
Captain Ty Farillas, a commander for the Pioneer Patrol Division with Salt Lake City Police, said at a news conference on Sept. 19 that the incident began with a trespassing call at 3:47 p.m. at the Homewood Suites, at 423 W. 300 South.
Dispatch received a call asked for assistance with apparent trespassers in a room.
When police arrived at 3:59 p.m., they spoke to the hotel manager, knocked on the door of the room, obtained entry and checked the IDs of the four people inside. Those four people then agreed to leave the premises.
Officers then discovered that one of the individuals, Zahn, had an active felony parole fugitive warrant for a weapons violation.
At 4:17 p.m., officers located Zahn across the street from the hotel, and when police approached him, and attempted to take him into custody, he fled southbound on foot.
Officers then initiated a foot pursuit south along 400 West, and Zahn ran down an alley at 330 South. He jumped a fence and was inside a courtyard outside a building with employees inside.
An officer then observed Zahn holding a handgun, and at 4:19 p.m. there was a gunshot from the suspect.
Noble fired two rounds at about the same time as Zahn fired his weapon.
It turned out Zahn punched, then shot out the glass door of the building at 333 Rio Grande St. Zahn then entered the building and officers set up containment around the building. Medical and SWAT arrived, and employees from the building evacuated and were interviewed as witnesses.
Officers entered the building at 4:38 p.m., and found Zahn deceased at 4:43 p.m. Farillas said Zahn appeared to have suffered a fatal self-inflicted gunshot wound. This finding was also confirmed by the Utah Office of the Medical Examiner.
The letter from the District Attorney's office outlines conclusions.
"The D.A.'s Office believes filing criminal charges against Officer Noble would be entirely inconsistent with the evidence presented. Officer Noble made a reasoned, split-second decision to fire his service weapon only after seeing Mr. Zahn pull out a firearm in a populated downtown area of Salt Lake City. When interviewed by Protocol Investigators, Officer Noble testified that he saw Mr. Zahn's weapon (which Officer Noble was able to describe in almost exact detail) and fired only because, 'Out of concern that [Mr. Zahn] would go in [the building] and take hostages or kill people inside (the building), I attempted to stop (Mr. Zahn) and fired.' In other words, only because he 'reasonably believe[d] that the use of deadly force (wa)s necessary to prevent death or serious bodily injury to the officer or another person.'"
"We conclude that Officer Noble's weapons discharge on Sept. 5 was 'justified' within the meaning of Utah state law."
The letter also notes: "Officer Noble's weapon discharge did not, however, comprise an 'officer-involved critical incident.' That term is defined in statute to include, as relevant here, 'the use of a dangerous weapon by an officer that causes injury to any person.' Neither Mr. Zahn nor anyone else was injured due to Officer Noble's use of deadly force."
The Salt Lake City officer was placed on paid administrative leave pending the outcome of the investigation.
Gephardt Daily will have more on this developing story as information is made available.