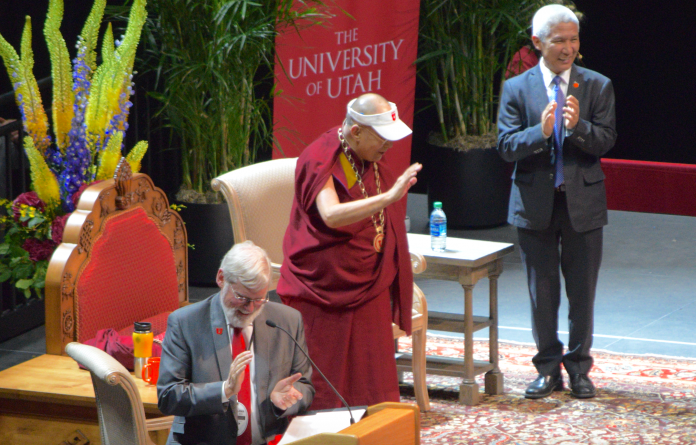 SALT LAKE CITY, Utah, June 21, 2016 (Gephardt Daily) — From a young boy clutching a notebook under his arm to an elderly woman in a wheelchair with blue curls and a matching butterfly in her hair, thousands of Utahns packed the Huntsman Center to see the 14th Dalai Lama of Tibet speak Tuesday.
The University of Utah said a limited numbers of tickets to the June 21 talk went on sale April 1. A total of 1,500 student tickets sold out in just over two hours. An additional 6,500 tickets went on a few days later and quickly sold out also. The Dalai Lama's first visit to the U campus was in May 2001.
When the Dalai Lama entered the arena at 1:37 p.m. the crowd, packed almost to capacity, stood, and he greeted them, clasped his hands together and laughed. The stage was adorned with comfortable chairs, a carpet and plants.
The Dalai Lama, who sat in an ornate wooden chair, was initially given the Presidential Medal presented by David W. Pershing, president of the University of Utah, which he wore along with a Utes visor.
Pershing mentioned that because the medal was rather heavy, the Dalai Lama didn't have to wear it, but he put it on for about the first hour he was on the stage, removing it part way through his talk.
The theme of the Dalai Lama's presentation was compassion and universal responsibility, and the plan was to end with question and answer session. However, because the lines into the arena were long, the presentation began with the Q and A session, to give audience members time to be seated. Guests were encouraged to submit their questions prior to the event.
The Dalai Lama spoke slowly, in English, and laughed often, causing laughter to ripple through the crowd. He was asked what role he thought scientific education plays in universal responsibility? "Showing interest about compassion, love," he said. "Love, compassion is very much based on a sense of oneness of human being, so sincerely others have the same desire, the same right, to develop a sense of being.
"In order to carry investigation, your mind must be open and also necessary skepticism; if you feel like you know everything, then no further progress. I am an 81-year-old person but I am also a student."
He opened his presentation after the Q and A session by saying: "First I want to ask you with this medal, with this hat, do you feel quite smart?" He continued: "When I talk, I always stress, we are the same human being, audience, speaker, we are the same mentally, emotionally, physically, everyone wants a happy life. We are all the same and all have the same right. Even insects, have the same desire, and right, to survive.
"If you consider this speaker is something special, then I have no relevance for you. If you consider the same, then my experience can be useful. For my part, I never consider I am something special, I am simply another human being. So then I feel very easy to communicate with others, if I don't feel I am something special."
He also spoke about violence in the world. "So much killing, so much starvation, it's very very sad," he said. "In the meantime, violence forming. So now, in order to tackle this problem, individual prayer is relevant and useful.
"Who creates violence? Not God, you. You create it. So I mentioned peace coming, not only through action but through prayer."
He added: "No matter how difficulties, we have the ability to keep inner strength."
He asked how many Tibetans were in the crowd, and when a small group raised their hands, he spoke to them directly in Tibetan, which a translator then summed up in English.
The spiritual leader of the Tibetan people, the Dalai Lama has committed his life to three major principles: the promotion of basic human values in the interest of human happiness, the fostering of inter-religious harmony and the preservation of Tibet's Buddhist culture of peace and non-violence.
Exiled from Tibet in 1959 during the uprising of Tibetans against the Chinese army, the Dalai Lama escaped to India and established the Central Tibetan Administration to meet the needs of refugees and seek to maintain their culture. He has since traveled the globe promoting peace and compassion, and in 1989, he received the Nobel Peace Prize for his nonviolent struggle to free Tibet.
He completed his talk at 2:42 p.m., and then took a couple more questions for ten minutes, first about climate change. "I have a serious concern about the environment, because this planet is our only home," he said. "We have no other choice. We have a responsibility to look to this planet."
He was also asked if he thought it would be possible for him to return to Tibet in his lifetime. He said most of his friends were 80 or 90 years old, and he didn't know. He added that one day a meeting with Tibetans back home would come. "Things are changing," he said. "That's my view, that things will change. So I'm basically optimistic."
Before the presentation the Dalai Lama met with cancer patients at the Huntsman Cancer Institute. He will also meet with Tibetans before he leaves Salt Lake City Wednesday.
The Dalai Lama was scheduled to visit the U back in October 2015 but was forced to cancel when doctors advised him he needed rest for at least a month following prostate treatment at Mayo Clinic in Rochester, Minnesota. General admission tickets to that event sold out in 10 minutes.
The Dalai Lama does not charge a speaking engagement fee, and no aspect of his visit is being used to profit financially. All local proceeds from the event, about $94,000, will go to Primary Children's Hospital, homeless services and the Utah Tibetan Association to benefit the Tibetan Community Center, a gathering place to celebrate and encourage the preservation of Tibetan culture. Proceeds will also be given to the Dalai Lama's charitable organizations. Prior to his address, a cultural program was presented by the Utah Tibetan Association.
"We have to make the effort to achieve a more compassionate world, a happier world, and if we make that effort this century will be more happy," he said, during his talk. "So that's why I think in America, there's already a few cities, that they call the city of guidance, the city of compassion. I think that kind of spirit should spread. You must make an effort for peace. You must make effort.
"Try to implement, and lead, and make a contribution to a better world."
He ended by tipping his Utes visor and saying: "Thank you, goodnight," as the crowd rose to its feet.