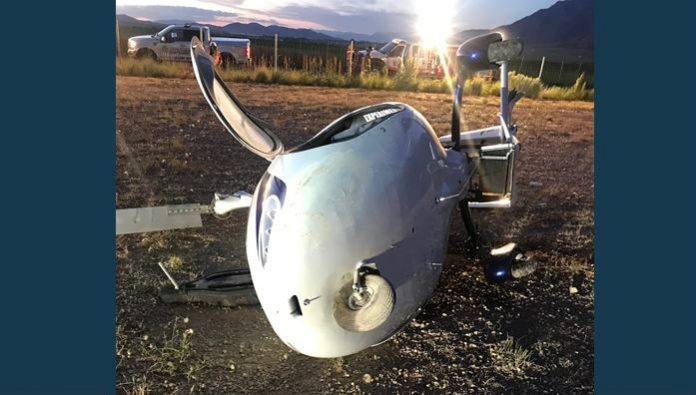 NEPHI, Utah, June 19, 2019 (Gephardt Daily) — A Davis County man was transported to the hospital Tuesday evening after a gyrocopter crash at the Nephi Municipal Airport.
Brent Pulver, chief deputy of the Nephi City Police Department, told Gephardt Daily that the call came to dispatch at about 8:45 p.m.
"It was a small gyrocopter," Pulver said. "The pilot said he was out practicing touch-and-gos, and was 60 to 80 feet in the air when he lost power. He had issues with the gyrocopter, and he landed hard. The gyrocopter went onto its side.
Pulver said the man "is doing OK."
"He was out there alone, and was able to get out and walk to the hanger. He ended up finding someone to give him a ride to the hospital. His injuries were non life-threatening."
The man in the single person crash was a 66-year-old Kaysville resident, Pulver said. His name has not been released.
Pulver said the gyrocopter, a single-person craft, was still in place as of 1 p.m. Wednesday, awaiting a crash investigation by officials from the Federal Aviation Administration and the National Transportation Safety Board.