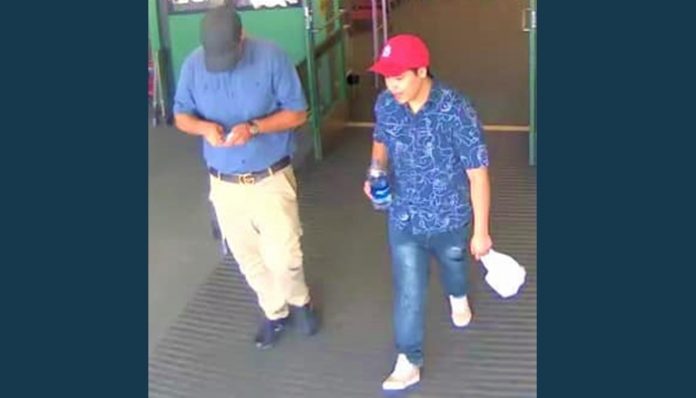 DAVIS COUNTY, Utah, May 23, 2019 (Gephardt Daily) — Davis County officials are searching for two men who allegedly used a stolen credit card to rack up a $500 charge at Target on May 7.
"Pictured are two individuals we need your help to identify," said a Facebook post from Davis County Sheriff's Office. "Our detectives would love to question these two about some vehicle burglaries that occurred at Davis Park."
The victim's credit card was stolen, then used at the Centerville Target to charge $500 to a gift card.
"They also attempted to use the card at the Game Stop in Centerville, but the transaction was declined," the post said.
In the surveillance photo, one man is wearing a gray baseball hat, blue short-sleeve shirt, tan pants with a belt and dark blue shoes. The other man is wearing a red baseball cap, blue and white patterned shirt, blue jeans and white sneakers. He's carrying a plastic water bottle and a plastic bag.
Anyone who recognizes the men is asked to call DCSO at 801-451-4100 and ask for Sgt. Marley.