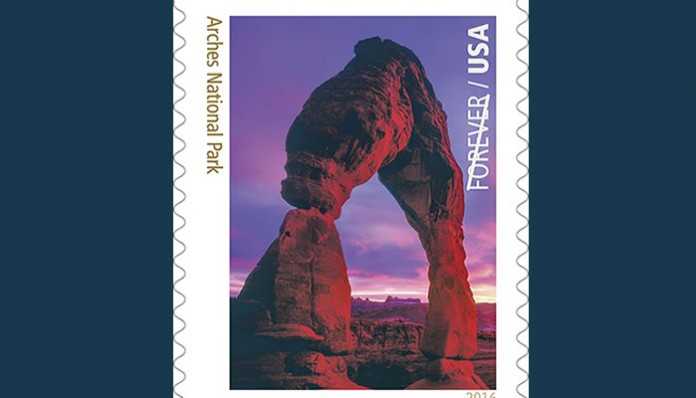 WASHINGTON, D.C., April 5, 2016 (Gephardt Daily) — The U.S. Postal Service has previewed the second in its series of 16 Forever stamps commemorating the centennial of the National Park Service.
The stamp, revealed on Tuesday, features Delicate Arch, which is in Arches National Park, Moab. The stamp image is a photograph by Tom Till of Moab, according to a news release from USPS.
Till, who is the owner of the Tom Till Photography and Gallery in Moab, said he has shot in 108 countries around the world, and this will be his third stamp.
"All three have been photos of our National Parks," said Till. "It's such an honor and a thrill. If you had told me over 40 years when I came to Moab that I would be the photographer of a U.S. Postage depicting the symbol of Utah's magnificent landscape, I would never have believed you. Added to that is the love I have for our parks and just to be involved in honoring them is a great privilege.
"I was an avid stamp collector as a kid, and it's also great to go through the whole process of selection and then keeping it all secret like you'd have to do if you were an actor in a film.  It's great to see how the whole process works. I'm a pretty happy camper today."
The 16 stamps, intended to represent the diversity of areas in the National Park system, are being previewed over the next three weeks, according to a statement released by the National Park Service.
"Delicate Arch is just one of more than 2,000 stone arches in a park that contains the greatest density of natural arches in the world," the statement said.
"The park is a landscape of contrasting colors, landforms and textures with thousands of natural stone arches, hundreds of soaring pinnacles, massive fins and giant balanced rocks."
The Postal Service previewed the Acadia National Park, Maine, Forever stamp Monday.
The June 2 first-day-of-issue ceremony for the National Parks Forever stamps pane will take place in New York City as part of World Stamp Show-NY 2016.
Dedication ceremonies also will take place at or near each of the National Parks depicted on the stamps. Enthusiasts are encouraged to spread the news on social media by using the hashtags #FindYourPark or #NPS100.
The National Park Service turns 100 on August 25, 2016.
Click here to learn more about the centennial celebrations.