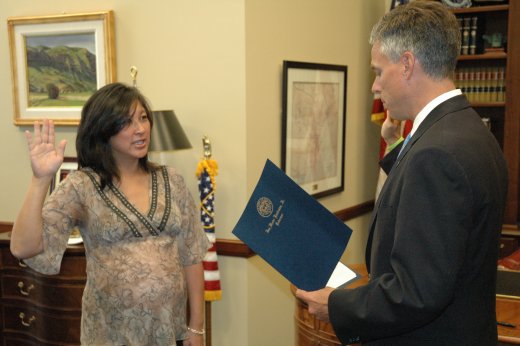 SALT LAKE CITY, Utah, June 27, 2016 (Gephardt Daily) — Department of Labor Commissioner Sherrie Hayashi has announced she is stepping down after 10 years as a member of the governor's cabinet.
Hayashi has accepted a position as the director of the University of Utah's Office of Equal Opportunity.
"I am deeply grateful to Gov. Herbert for his support and providing me with this opportunity," Hayashi said. "This is a bittersweet moment, as I will miss the many hardworking, dedicated and talented professionals of the commission and the State of Utah."
Hayashi previously served as director of the Antidiscrimination and Labor Division, and as associate general counsel for the Labor Commission. As commissioner, she oversaw the agency responsible for assuring safety in Utah's workplaces and fairness in employment and housing.
"Sherrie has been an incredibly dedicated and valued member of my cabinet," Gov. Herbert said. "I have appreciated her leadership and wish her well on this new endeavor."
Gov. Herbert has appointed Jaceson Maughan to serve as interim Commissioner. Maughan is currently the deputy commissioner and general counsel for the Labor Commission. Prior to this service, Maughan worked as legal counsel for the Department of Workforce Services and as an Assistant Attorney General with the Attorney General's Office.
"Commissioner Hayashi's dedication to workplace safety and fairness as well as her leadership will be missed," Maughan said. "I am humbled by the opportunity to serve as interim commissioner and intend to continue the good work done by Commissioner Hayashi and the Labor Commission."