To see an updated story, click here.
SOUTH SALT LAKE, Utah, Nov. 24, 2017 (Gephardt Daily) — A man attempting to outrun the Utah Highway Patrol while behind the wheel of a stolen Tesla found himself in handcuffs after the electric car ran out of juice on State Route 201.
The arrest was the culmination of a string events that began around 11 p.m. Thursday when a UHP trooper came upon a man in a Tesla with missing license plates.
When the driver's story failed to add up, the trooper detained him and quickly came upon multiple sets of Tesla keys.
According to South Salt Lake Sgt. Ryan Cram, the UHP contacted South Salt Lake Police who were dispatched to the Tesla dealership at 2312 S. State Street and discovered it had been burglarized.
While detectives were processing the crime scene a UHP trooper parked outside spotted a new Tesla driving down State Street. When the trooper turned on his lights the Tesla's driver sped away.
The UHP trooper followed the fleeing suspect on a winding path from I-80 to I-15 to westbound SR-201 when the Tesla sputtered to a stop about a quarter mile from the Flying J truck stop.
Cram said the electric car simply needed to be recharged.
The suspect tried to run but was taken into custody. At some point during his arrest he injured his foot and was taken to a nearby hospital for treatment.
Police estimate the two stolen Teslas were worth in excess of $100K.
Initial police reports indicated as many as five vehicles had been stolen from the dealership. When asked directly, police would only say their investigation is continuing.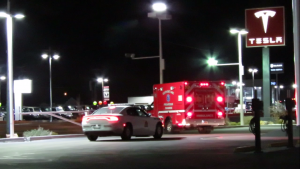 We will update the story when more information becomes available.