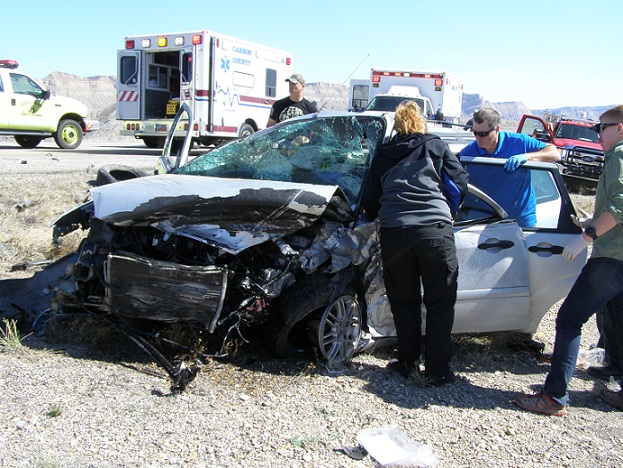 ---
EMERY COUNTY, Utah, March 20, 2016 (Gephardt Daily) — A man reaching for his cell phone Sunday afternoon caused a three-car collision on State Road 6 in Emery County.
Utah Highway Patrol officials said the accident happened at approximately 2:40 p.m. near milemarker 273 when the driver of a 2006 Audi headed east got distracted when he dropped his phone and leaned down to pick it up. The driver drifted across the double yellow lines and sideswiped a 20-foot double axle trailer being towed by a pickup truck.
The Audi then spun around and collided nearly head-on with another passenger car. The driver of that car, a female in her 20s, was trapped in the vehicle and had to be extricated. She was transported by a medical helicopter to the hospital in critical condition. Her passenger, a female in her 40s, was transported to the hospital by ambulance; her condition is unknown.
No other injuries were reported. The Audi caught fire, but was put out when fire crews arrived on scene.