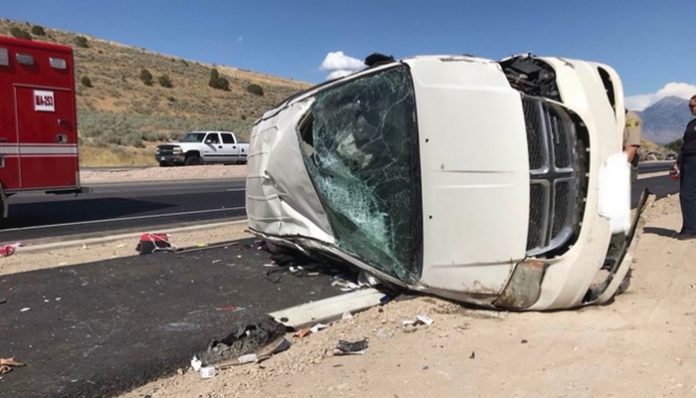 EAGLE MOUNTAIN, Utah, Aug. 29, 2019 (Gephardt Daily) — Distraction is suspected in two separate crashes in Eagle Mountain in less than two hours Thursday afternoon.
"At about 2:15 p.m. deputies in Eagle Mountain were dispatched to a crash on Cory B. Wride Memorial Highway and Sunset Drive," said a news release from the Utah County Sheriff's Office. "Witnesses told deputies a small SUV was driving south on Sunset Drive approaching Cory B. Wride Highway. There is a traffic light at this intersection and witnesses said the light for the SUV was red and the driver failed to stop."
A large dump truck carrying a full load of asphalt was driving west on Cory B. Wride Highway. Witnesses also said the westbound light was green. The driver of the dump truck was unable to avoid the SUV, officials said.
The driver of the SUV sustained serious injuries and was in extremely critical condition when she was flown to Utah Valley Hospital in Provo, the news release said. Both drivers were the only occupants of their vehicles. A friend of the injured woman told deputies he was talking to her by phone when this crash occurred.
"At 3:50 p.m. deputies responded to a separate crash on Pony Express Parkway and about 2500 East, also in Eagle Mountain," the news release said. "The driver of a minivan, with his 13-year-old daughter as a passenger, was driving east on Pony Express when he drifted to his right, hit a curb, then hit a fire hydrant."
The van rolled one time end over end and almost two more rotations sideways. The van came to rest on the passenger side. The driver and his daughter sustained minor injuries.
"In this crash a witness reported following the driver nearly three miles," the news release said. "During that time the witness reported seeing the driver using his phone in his hand the entire way. The driver of the minivan, a 42-year-old Eagle Mountain man, was issued a citation for failing to operate in a single lane."
Gephardt Daily will have more on this developing story as information is made available.