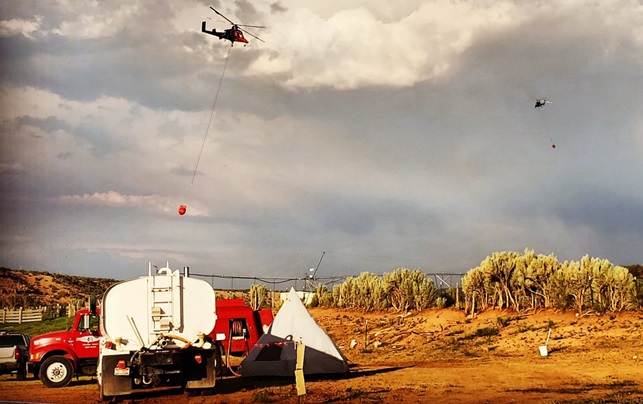 WASATCH/DUCHESNE COUNTIES, Utah, July 18, 2018 (Gephardt Daily) — The Dollar Ridge Fire is 85 percent contained, officials said Wednesday, and has burned 56,734 acres.
An update on Facebook from Utah Fire Info said there are now 390 total personnel assigned to the fire; three helicopters, 10 engines and 12 crews.
A Type 5 Great Basin Incident Management Team assumed command of the fire at 6 a.m. Wednesday, according to the update.
"This transfer to a smaller management organization reflects successful containment efforts, and a downsizing of incident resources," the update said.
"During the next several days, Team 5 will support firefighters with containing the remaining 15 percent of the fire, completing suppression repair work, responding to new fire starts and excessing equipment and supplies firefighters no longer need."
The update said because of the particularly hot, dry weather Wednesday, firefighters may take advantage of the conditions to conduct a "long anticipated" burning operation along the southwest flank in Willow Creek where the fire remains most active, which will help increase containment.
Firefighters are also repairing dozer and hand lines, to make roads safer to travel and fire scars less visible. This also allows plants to grow back which helps prevent erosion.
A small containment of firefighters from the Dollar Ridge Fire also responded to a new wildfire called the Santaquin, located near Santaquin Draw, east of Gray Wolf Mountain in Duchesne County Tuesday afternoon. It grew to 188 acres before three helicopters, single engine airtankers and fire engines stopped its forward progression.
Firefighters continue to work on that fire Wednesday and anticipate full containment this afternoon. The cause of the Santaquin fire is under investigation.
The update on the Dollar Ridge Fire said that logs, roots and standing dead trees located in the fire area may smolder, producing small amounts of light smoke that may be visible for weeks to come. This smoke will be especially visible on hot, dry days when it becomes easier for the fire to consume the wood. These "hot spots" do not pose any threat to the public or structures.
Beaver Creek subdivision remains evacuated, and County Evacuation Zone D is in a pre-evacuation level, the update said.
The Dollar Ridge Fire started 4.5 miles southeast of Strawberry Reservoir at about 1 p.m. July 1.
The cause is believed to be due to human activity and is under investigation.
Gephardt Daily will update this story as more information becomes available.
For the latest updates on the Dollar Ridge Fire and other Utah wildfires click here.