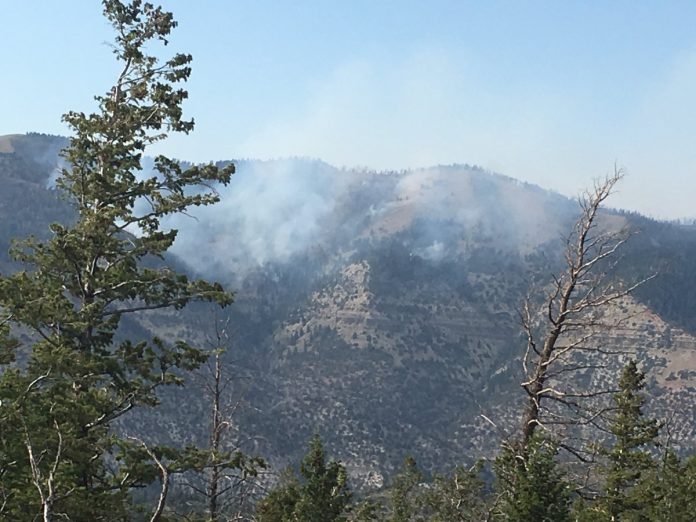 WASATCH/DUCHESNE COUNTIES, Utah, July 23, 2018 (Gephardt Daily) — The Dollar Ridge Fire near Strawberry Reservoir is 93 percent contained, officials said Monday, and has burned 57,051 acres.
An update on the Utah Fire Info website said there are now 310 total personnel assigned to the fire, and that the Monday morning update will be the last unless significant activity occurs. It's estimated the fire will be 100 percent contained by Wednesday, the update said.
A transfer of command from Great Basin Team 5 to a smaller incident management organization will occur Tuesday morning at 6 a.m., the update said. The new organization is responsible for managing the remaining uncontained fire and completing suppression repair work. Firefighters are evaluating road conditions, and when safe to do so, they will work with resource advisors and heavy equipment to repair dozer lines. This work may take up to a week to complete.
"Two small pieces of uncontained fire are still producing small pockets of heat in remote, inaccessible areas with abundant snags and other dangers that pose a risk to firefighters," the update said. "Firefighters will daily check on these areas to ensure the fire does not move."
Dollar Ridge Fire evacuations for Wasatch County known as W1 were changed to pre-evacuation status beginning Monday at 8 a.m.
One tool land managers use to assess effects from a fire is a Burned Area Emergency Response (BAER) Team, the update said. On July 20, a BAER team arrived on the Dollar Ridge Fire to collect information about the burned area. Their goal is to use this information to provide a Burned Area Emergency Response evaluation that identifies actions agencies can take to protect life, property, water quality, and deteriorated ecosystems from further damage. The BAER team's work should take about a week to complete, officials said. When they finish, they will leave a Burned Area Report with the U.S Forest Service, State Forestry Fire and State Lands, Natural Resources Conservation Service, Bureau of Indian Affairs, and Duchesne and Wasatch Counties for their reference and use.
The Dollar Ridge Fire started 4.5 miles southeast of Strawberry Reservoir at about 1 p.m. July 1.
The cause is believed to be due to human activity and is under investigation.
Gephardt Daily will update this story as more information becomes available.
For the latest updates on the Dollar Ridge Fire and other Utah wildfires click here.