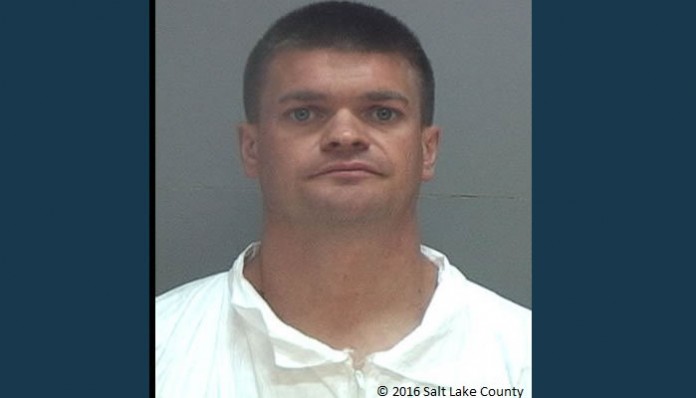 SALT LAKE CITY, Utah, April 15, 2016 (Gephardt Daily) — Police have identified the man arrested Thursday after a woman was taken to the hospital in critical condition from his Salt Lake City home.
Lt. John Beener, watch commander for Salt Lake City Police, said a woman called dispatchers at 3:47 p.m. Thursday about a possible assault at 555 S. 900 East.
Officers were asked to check the welfare of an intoxicated male, now identified as Earon Lisenbee, 33. Upon arrival, officers found a severely injured woman.
Lisenbee refused to comply with officers' commands and became combative. He was Tazed and arrested. Lisenbee was taken to the hospital for injuries to his hand and subsequently booked for aggravated assault. The 43-year-old female victim was transported to the hospital in critical condition.
"The woman, a family friend of the man that lives in the back of this home, called and said she was concerned about him," Beener said.
"She said he had obvious signs of impairment when she talked to him over on the phone and he kept calling her repeatedly. During the conversation, he mentioned he had assaulted a woman and the caller said she thought she could hear a female that sounded like she was in distress in the background.
"We were able to verify he was in the home through the use of his cell phone, but did not know if anyone else was inside," Beener said. "He lives alone and it seemed out of context for any female to be inside."
Beener said police were concerned that someone inside was injured because the caller mentioned to dispatchers there may have been some sort of household object used as a weapon.
"We felt we needed to make immediate access to the home and a family member showed up with a key," Beener said. "Once inside, they found a man behind a locked door who had suffered some minor superficial injuries. Police also found a female who had sustained fairly critical injuries and was not able to speak very well due to her injuries.
"Our investigators are currently trying to piece together what happened and are waiting to speak to these two individuals," Beener said.
The woman is in significantly worse condition than the man, and police are uncertain when they will be able to interview her. It is unclear what the relationship is between the two, and police have not identified the woman.