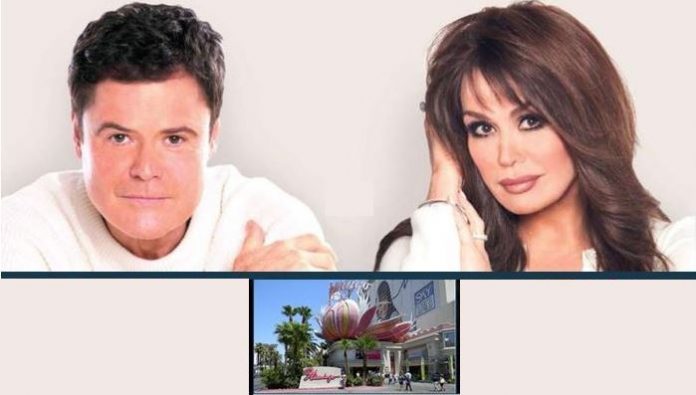 LAS VEGAS, March 21, 2019 (Gephardt Daily) — Internationally known singing siblings Donny and Marie Osmond announced Thursday that they will end their Las Vegas show.
"It's been rumored that we're bringing 'Donny and Marie' to an end here in Las Vegas," Donny said in a "Good Morning America" interview.
"We're here to say it's official," he said, adding that the decision was "very, very hard."
The Utah-born siblings have shared a stage for more than four decades, beginning with "Donny and Marie" (1975-1979), a musical variety show that featured guests, in the first year including brothers Alan, Wayne, Merrill and Jay.
"The Donny and Marie Show" was shot in the family's Orem studio, and peaked at 14 million viewers.
The Las Vegas show, originally planned for a six-week run, is now in its 11th year, said "Good Morning America" reporter Paula Faris, who conducted the show's interview with Donny and Marie, ages 61 and 59, who both were born in Ogden.
"I think that there's a unique chemistry, and people love that sibling sound," Marie said of the duo's longevity.
Donny told Faris the Las Vegas show has helped him and Marie through tough times.
"We have been through so much the last 11 years, her particularly," he said. "And she gets on stage, and she's such a professional. She does a great job. I'm gonna miss this. A lot."
"I have been through a lot, but he's been my rock," Marie responded. "I went through a terrible divorce here, and terrible custody battle, and I lost a child here."
Son Michael Blosil died of suicide in 2010 after battles with depression. He was 18.
Donny spoke of a bond between himself and his only sister "that will never be broken."
"You know each other's buttons, and I will never let anybody hurt him," Marie responded, emotion in her voice.
Then she smiled.
"Just me," she joked. "Just her," Donny confirmed. "And she does a good job at it," he added before both burst into laughter.
The Las Vegas show is set to end in mid-November.
"It's the end of 'The Donny and Marie Show,' it's not the end of Donny and Marie," Donny said.
To see the full "Good Morning America" interview, click this link.