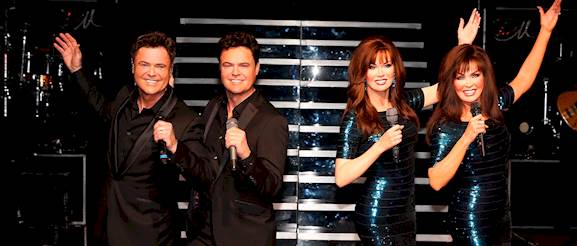 LAS VEGAS, Nevada, Feb. 10, 2016 (Gephardt Daily) — Utah's own Donny and Marie Osmond were present for the unveiling of their wax figures Tuesday in Las Vegas Tuesday.
The unveiling took place on stage inside The Donny and Marie Showroom at Flamingo Las Vegas during their first performance of the new year, according to a news release from Madame Tussauds.
Marie said of her figure: "It's amazing how real they look… I've always wondered what it would be like to have sister."
The figures are now permanently on display inside Madame Tussauds Las Vegas, located at The Venetian.
The news release said Donny and Marie's figures are the attraction's first new figures for 2016. The figures were created in late 2015. Madame Tussauds' studio team collected hand impressions and nearly 300 precise body and facial measurements per person, as well as comparing hair samples and eye color.
The figures were then sculpted in clay by hand. The final weeks of 2015 were spent meticulously inserting each hair by hand then fitting acrylic eyes and teeth. The final step included layers of tinted paint being applied to build up skin tones and replicate their faces.
The figures are dressed in costumes from their show. Marie donated her deep aqua sequined knee-length dress, along with earrings and black and blue platform shoes. Donny gave his figure his black suit and shoes. Both of their wedding bands and rings were replicated for the figures as well.
Following Marie's stint on "Dancing with the Stars" in 2007, the Ogden-born pair teamed up for a limited engagement in Las Vegas at the MGM Grand Las Vegas. Beginning September 2008, Donny and Marie began playing the 750-seat showroom at the Flamingo Hotel.