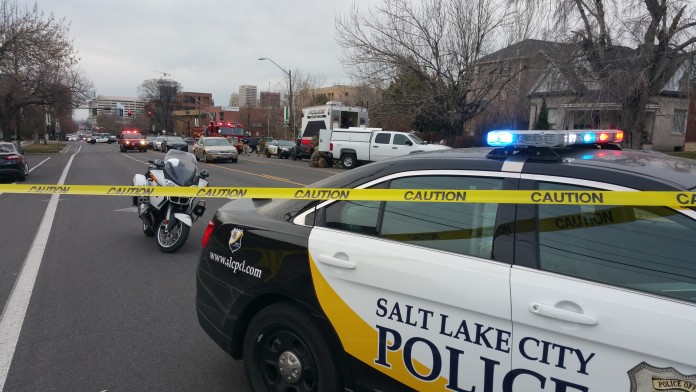 SALT LAKE CITY, Utah, March 4, 2016 (Gephardt Daily) — Police have identified a man who barricaded himself into a home Thursday afternoon, prompting a SWAT team response and the evacuation of a downtown street.
Jordan Gonzales, 22, was taken into custody without incident about half an hour after the standoff began.
A news release from Salt Lake City Police Department said officers responded at about 3:40 p.m. to 142 S. Hawkes Court (635 East). Hawkes Court was evacuated, police said.
"Gang detectives received information that a fugitive gang member was staying at this address," the news release said. "Officers arrived and observed the wanted person inside the residence. After no one answered the door, containment was established and a bullhorn was used in an attempt to make contact.
"Eventually a SWAT callout was initiated. Once the team arrived and set up, Gonzales was taken into custody without incident and booked into jail. A search warrant was executed on the home, and drugs and drug packaging materials were seized. Also in the residence was a male juvenile with an active pick-up order. He was transported to detention."
Gonzales had multiple warrants out for his arrest, and one was for weapons violations.
Nobody was injured in the incident.