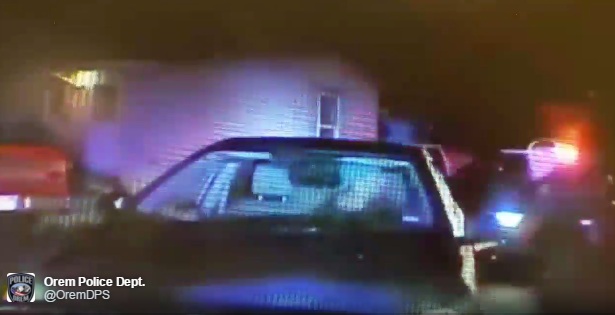 Armed suspect being tazed and taken into custody @OremDPS pic.twitter.com/dDO8KsGDfh

— Orem Police Dept. (@OremDPS) January 11, 2016
OREM, Utah, Jan. 11, 2016 (Gephardt Daily) — Orem City Police have released dash cam footage of two officers using a taser to subdue an armed suspect who was in a stolen vehicle last week.
According to a post on the Orem City Police Facebook page, the confrontation took place on Jan. 6 when Sgt. Scott Spieth and Officer Alex Winder were following up from a pursuit they had a few days earlier involving a stolen silver Toyota Corolla with Idaho plates.
The officers terminated the Jan. 6 pursuit when the felt it had become too dangerous.
But just after 6 p.m. on Wednesday, the two officers were checking a trailer park at 441 S. State Street when they spotted the same car with someone inside.
As officers approached the vehicle, the suspect rammed them in an attempt to get away.
The officers were able to approach the suspect, and tased him before taking him into custody.
The post further states:
"What you won't see or hear in the video is the suspect refusing to show his hands, and you won't see the handgun in his right hand," the Facebook post said. "(It was a) Pretty bad situation all around. Fortunately for everyone involved it ended with the bad guy in jail and no one else hurt."
The post said the officers did not immediately spot the firearm.
"They didn't see the gun until after he had been tased. He saw it as he was pulling the suspect out of the passenger side door and officer Winder was able to taze him one more time so that he couldn't get control over the gun again."
Shawn Canfield, 35, has been booked into the Utah County Jail and is being held without bail on charges of possession of a stolen vehicle, evading, resisting arrest, possession of a firearm by a restricted person, possession of a stolen firearm, aggravated assault, criminal mischief, possession of meth and possession of drug paraphernalia.