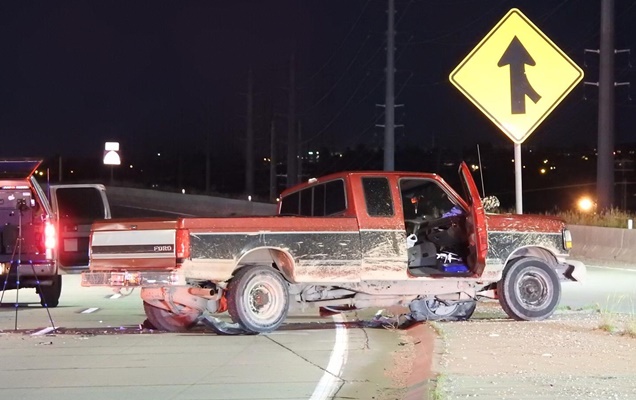 RIVERTON, Utah, June 9, 2019 (Gephardt Daily) — A 29-year-old man was critically injured Sunday night when he drove through a red light and struck another vehicle head on in the area of 13400 S. Bangerter Highway.
The southbound lanes of Bangerter are closed to traffic and will remain shut down possibly until midnight while a crash analysis reconstruction team is on scene.
Sgt. Melody Gray, of the Unified Police Department, said the harrowing incident started at about 7 p.m., when a man driving a pickup truck near 6800 South and UT-111 reportedly began harassing people who were riding ATVs in the area, which is a popular recreation spot.
The people called the police, who made a traffic stop on the pickup truck.
"Officers found an open can of alcohol in the vehicle," Gray told Gephardt Daily. "And the man took off."
The police didn't pursue him for safety reasons, but they got a report later that the suspect was driving down Bangerter, "kind of slowing down at red lights, but then blowing right through them," Gray said.
Just past the intersection at 134th southbound, the truck ran through the red light and plowed head-on into a vehicle that was about to make a left turn.
The three people in the vehicle that was hit sustained minor injuries.
The driver of the pickup truck was transported in very critical condition to Intermountain Medical Center by ground ambulance. Emergency crews didn't think it would be wise to wait for a helicopter to come and transport him.
Police believe alcohol was a factor in the crash.
Gray said this was "not a typical traffic accident," and the driver of the pickup may be facing "a multitude of charges," including fleeing and driving under the influence.