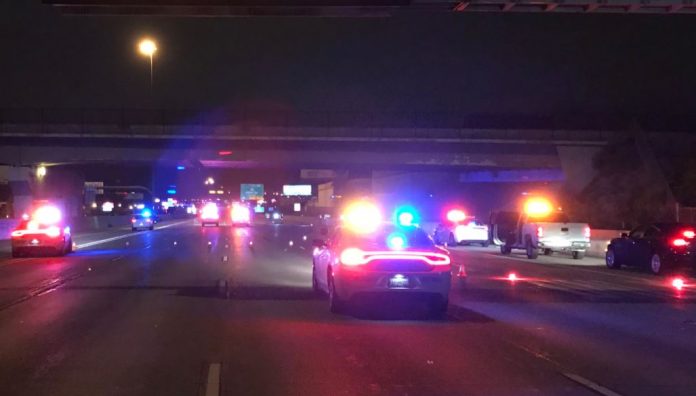 SOUTH SALT LAKE, Utah, March 17, 2018 (Gephardt Daily) — A southbound driver on Interstate 15 survived a crash early Saturday morning, but died after he left his car and was struck by multiple vehicles traveling at highway speeds.
The man, whose name has not yet been released, was pronounced dead at the scene, at I-15 and 3900 South, when officials arrived at about 1:45 a.m.
"Upon arrival, we discovered a pedestrian who had been struck outside his vehicle," said Sgt. Zach Randall, Utah Highway Patrol.
"Based on what we are finding here at the scene, it appears that the Hyundai Sonata was traveling southbound on I-15 here at about 3900 South in one of the right lanes when it was sideswiped."
The impact caused the Sonata driver to lose control, and to run off the right side of the road, Randall said. The car "struck the concrete barrier, veered all the way back to the left, and came to rest after it struck the concrete median in a head-on manner.
"The driver of that vehicle jumped out of his vehicle, and ran out into the travel lanes where he was struck by one vehicle, then multiple vehicles after that," Randall said. "Once officers arrived on scene, he was dead. We don't know exactly how many vehicles struck him."
The first car that struck the man after he left his car remained at the scene, as did one other, Randall said. Officers have no information on the vehicle that struck the man's car, causing it to veer out of control. All they know is that the paint transferred by the impact was white.
"We do have several witnesses, but I know that there have got to be more," Randall said. "There was heavy traffic at the time, so I would assume that many people saw it. If anybody did see it, I would ask that they get in touch with us. Looking at the initial damage, it appears to be very minor, so if somebody saw it they may not have thought much of it at the time."
The road was completely closed for more than an hour for the investigation because all lanes were involved.
Randall said people in accidents should stay in their cars.
"The safest place is always going to be in your vehicle. If you're involved in a crash, stay in your vehicle… being outside your vehicle is not a safe place to be."