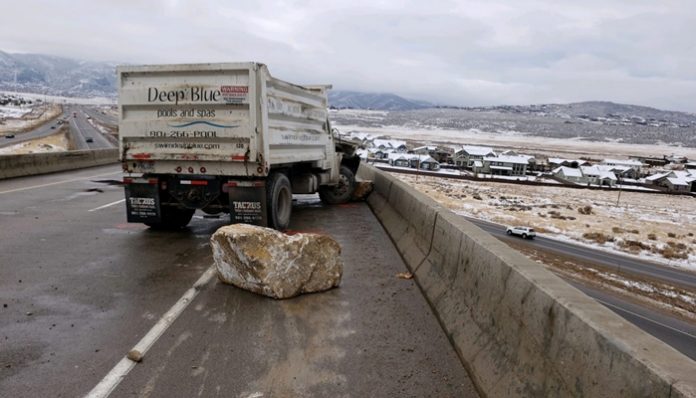 SUMMIT COUNTY, Utah, Nov. 21, 2019 (Gephart Daily) — A dump truck driver was killed on U.S. Highway 40 on the overpass to westbound Interstate 80 Thursday morning.
A news release from the Utah Highway Patrol said at approximately 11:37 a.m., a two-axle dump truck was traveling westbound. The roads were wet and slick from earlier snow.
"The truck was loaded with large heavy landscape rocks," the news release said. "It is suspected that due to traveling too fast for the conditions, mixed with the weight of the truck and possibly weight shift, the solo occupant male driver lost control of the truck. The truck swerved left and made contact with the concrete barrier."
The truck then swerved right, made contact with the right side barrier and partially overturned.
The male driver was not wearing a seat belt and was ejected from the truck. He sustained fatal injuries from the ejection.
The U.S. 40 westbound overpass was shut down and traffic was diverted around the flyover. Lanes reopened after investigation and cleanup was complete, officials said.
The deceased man's identity has not been released pending notification of family.
Gephardt Daily will have more on this developing story as information is made available.