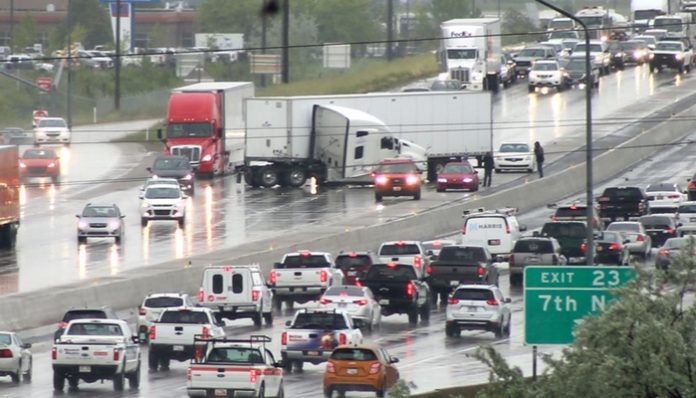 SALT LAKE CITY, Utah, May 23, 2019 (Gephardt Daily) — Drivers are being warned of delays on southbound Interstate 215 at 700 North after a semi jackknifed Thursday afternoon.
The Department of Environmental Quality tweeted the photo above.
"The view from @UtahDEQ HQ," the tweet said. "Jackknifed semi on SB I-215 at 700 North. Take it easy out there. Slow down and give yourself a little extra time. @UTHighwayPatrol on the scene."
The Utah Highway Patrol tweeted at 4:30 p.m.:
"We have a heavy duty wrecker en route to this one. We should be able to get it out of traffic shortly. Thank you for your patience."
There were no injuries, the tweet said.
Salt Lake City Fire crews are assisting with a fuel leak clean up as a result of the incident.
Gephardt Daily will have more on this developing story as information is made available.