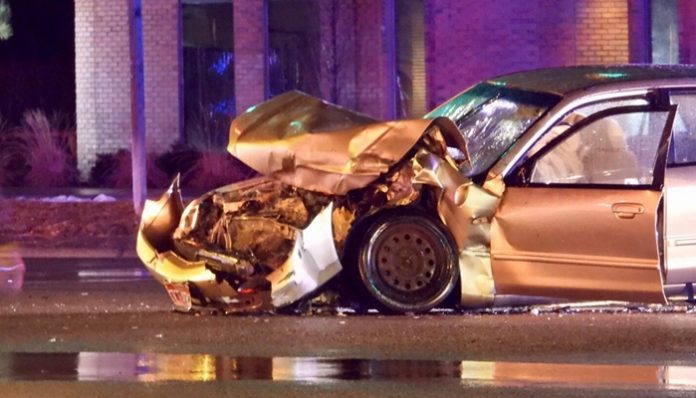 MURRAY, Utah, Dec. 12, 2019 (Gephardt Daily) — A woman was arrested after a police pursuit ended with a crash on State Street in Murray Thursday evening.
Unified Police Department Sgt. Melody Gray told Gephardt Daily UPD's narcotics team was watching a suspect vehicle with a fugitive in the parking lot of Walmart at 5469 S. Redwood Road in Taylorsville.
The vehicle fled from them and unmarked police cars followed, then attempted to spike the vehicle in the area of 7000 S. 1300 West. The suspect vehicle then crashed into another car at the intersection of State Street and Winchester Street, Gray said.
The female suspect attempted to flee on foot but was taken into custody. Her passenger sustained minor injuries, Gray said. The suspect, identified as Makayla Lopshire, 27, was arrested on outstanding felony warrants and is likely to now face additional charges including fleeing, Gray said.
No one in the vehicle she hit was injured, Gray added.
Both directions of State Street were closed down after the crash but have since reopened.
Gephardt Daily will have more on this developing story as information is made available.