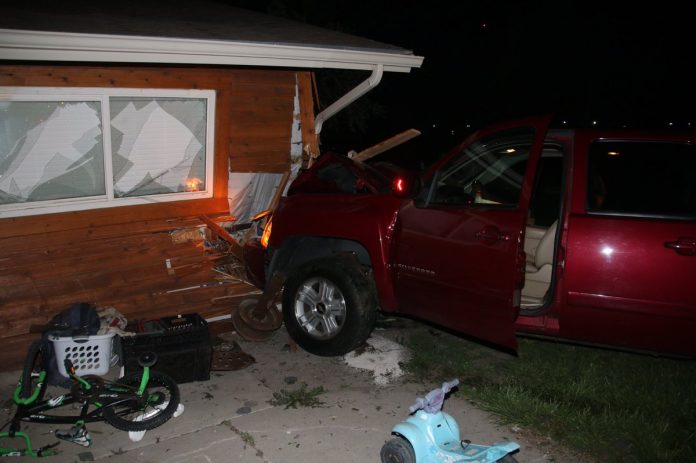 DAVIS COUNTY, Utah, April 23, 2018 (Gephardt Daily) — A 25-year-old Layton man was arrested early Sunday morning after he crashed his pickup truck into a home in an unincorporated part of Davis County.
The impact destroyed the wall of a bedroom in which an infant was asleep in a crib, propelling the crib about 20 feet, Davis County Sheriff's Detective Ty Berger told Gephardt Daily.
The incident began at about 2 a.m., when a North Salt Lake Police officer saw a maroon pickup truck speeding north on Redwood Road at about 100 mph.
Rather than pursue the vehicle, he called ahead to alert officers who were farther north to watch for the truck.
Berger said a Woods Cross officer went into the area to look for the truck and saw a large plume of dust and smoke where the vehicle had crashed into a house near 500 South.
The road ends there and becomes a private gravel road with a 90-degree turn to the west, Berger said. The driver was unable to negotiate the turn and lost control of the truck.
"It's a good thing he must've slowed down trying to make the turn," Berger said. "If he had hit that house at 100 miles an hour, it would have been so much worse."
The crib with the 5-month-old girl in it "went flying," Berger said. "The parents were in shock."
South Davis Metro Fire responded and transported the child to the hospital.
"Amazingly, the baby's injuries were minor," Berger said.
He said the responding officers determined that the driver, identified as Stephan Briones, 25, of Layton, was intoxicated. Because of his injuries, which were minor, police did a blood draw to determine his blood alcohol content, and officials are awaiting the results, Berger said.
They did conduct a field sobriety test, which concludes with a portable breath test, and Berger said Briones' BAC on the portable test was 0.198, more than twice the legal limit.
Briones was evaluated at the hospital prior to being booked into jail.
He has been charged with:
DUI with injury
Possession of a weapon by an intoxicated person
Reckless driving
Criminal mischief
Berger said Briones made bail and will have a sentencing hearing in 2nd District Court in Farmington.
The crash caused an estimated $45,000 to $50,000 in damage to the home.