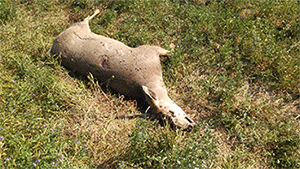 September 24, 2015 (Gephardt Daily) – The Division of Wildlife Resources is asking for the public's help in locating the poachers responsible for illegally killing a doe and buck deer this month.
On Labor Day, a resident of Sanpete County notified DWR conservation officers that a buck deer had been illegally killed and left to waste on his farm near Sterling. The farmer also reported that the suspect or suspects had illegally trespassed on his property and driven a vehicle over his hay crop. That particular field was ready to be cut and harvested; therefore, the use of a vehicle to trespass and poach also caused damage to the farmer's crop.
An officer investigated and concluded that the buck deer had indeed been illegally shot and killed with a rifle. The deer had been poached sometime during the week before the Labor Day holiday. The perpetrators only took the antlers of the deer and left all of the meat to waste.
This deer was shot and killed during the archery-only deer-hunting season. Several buck deer had been in the area during the archery hunt, and many local archers had been hunting them in an attempt to lawfully harvest a deer.
Officers are also seeking information about a doe mule deer that was shot and left to waste on Gentry Mountain, in Emery County. The doe was found near a horse corral in the McCadden Hollow area, and it had been shot with a broadhead-tipped arrow. Officers believe the deer was most likely shot at the end of the general-season archery buck deer hunt, on about Sept. 10 or 11. During the hunt, it is only legal to take buck deer.
Division of Wildlife Resources Captain Mitch Lane said DWR conservation officers catch plenty of wildlife violators on their own, but the officers are spread thin.
"We need your help," Lane said. "We need you to keep your eyes and ears open while you're enjoying time in the outdoors. If you see something that doesn't seem right, please let us know."
"Even if what you saw doesn't look like a big deal to you," said DWR Captain Rick Olson, "let us know about it. Some of our most significant cases started when someone called us with a small tip that led us to more information."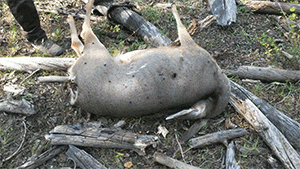 If you see something suspicious or out of the ordinary, Olson says you shouldn't confront people who might be committing a violation. Instead, contact the DWR immediately. You can report this activity the following ways:
If you see a wildlife violation occur, calling Utah's Turn in a Poacher (UTiP) hotline is the best way to get an officer to the scene.The hotline — 1-800-662-DEER (3337) — is staffed 24 hours a day, seven days a week.

If you can't remember the UTiP number, pull out your Utah hunting or fishing license or permit. The number is written on the license or permit.

Email the information to officers at [email protected]
A license plate number is the most important piece of information you can give to officers.
A description of the person and the location where the incident is occurring are also crucial. "If you have a GPS unit with you," Olson said, "give us the coordinates. GPS coordinates are really helpful in getting us to the right spot as quick as possible."
Rewards are available for information leading to the successful prosecution of wildlife crimes. Requests for confidentiality are always respected.