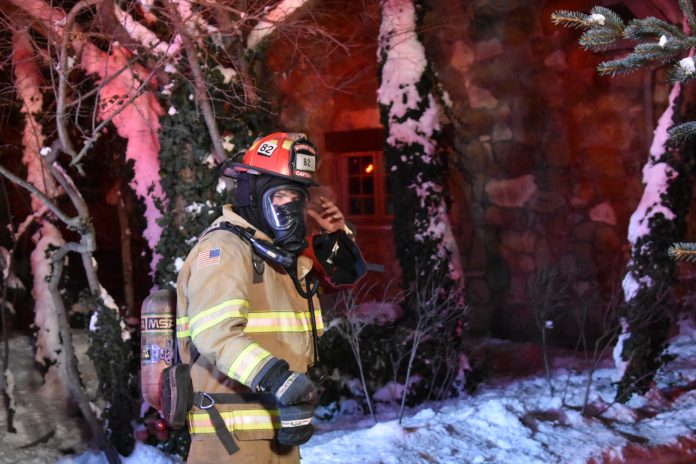 HOLLADAY, Utah, Jan. 1, 2017 (Gephardt Daily) — An early morning fire at a Holladay home early Sunday morning caused approximately $20,000 in damages.
Capt. Dustin Dern from Unified Fire Authority said the fire broke out at a home in the area of 2090 Arbor Lane (5000 South) at approximately 4 a.m.
"On our arrival, we had heavy smoke showing from the eaves, concentrated to the east side of the home; on my walk around I was able to see fire through the windows on the far east of the home, concentrated in the living room, near the fireplace," Dern said.
Crews received confirmation on arrival from the homeowner that everyone had evacuated.
Dern said the family had been up for New Year's but had gone to bed at approximately 1 a.m. and smoke alarms had then roused them. There were no injuries, and a dog safely exited the residence with the family.
"On arrival, it was pretty apparent that the fire was concentrated to the living area, but then there was also fire showing from the exterior from the chimney chase area," Dern said. "My crew was able to make entry with the hose line and knock down all the interior fire pretty quickly. However with the tall, vaulted ceilings and some of that aspect, it makes it more difficult to make access to that area. But we were able to get the equipment in there and make access, and hold the fire to that area."
He added that crews took a 24-foot extension ladder inside to be able to access the ceiling within the living area.
The cause of the fire is still under investigation.
The family will be displaced, as there is smoke, fire and water damage, but Dern said they have family in the area to assist them.