Utah, Nov. 7, 2017 (Gephardt Daily) — Utah kidnapping survivor Elizabeth Smart is providing tips to parents on avoiding abuse in a new interview on Reddit timed to coincide with the 15th anniversary year of her childhood abduction.
Smart was just 14 in June of 2002 when she was abducted by a religious fanatic from her home in Salt Lake City. She was held captive for nine months, during which she was starved and raped until someone recognized her and she was recovered.
Smart, who is now married with two children, took part in an "Ask Me Anything" question and answer session on the popular website Monday. The website hosts such sessions with prominent people. AMAs are open to all Reddit users, and use the site's comment system for both questions and answers. Past participants include former President Barack Obama, Bill Gates, and current President Donald Trump.
One of the top-rated questions reads, "In your opinion as a children's advocate, what are some practical, commonsense steps parents can take to help their children avoid abuse? (And I guess I mean abuse in a general way, anything from extreme bullying to abduction.)"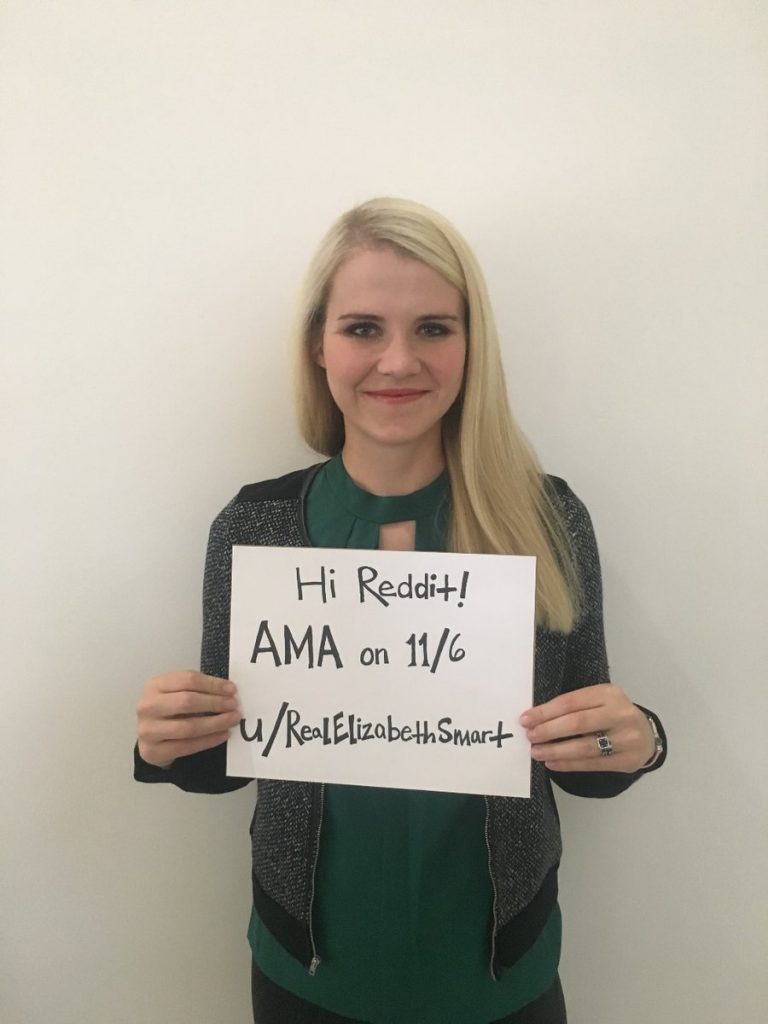 Smart replied with three points:
Make sure your child knows that they are loved unconditionally, and make sure your child knows what unconditionally means.
Make sure that your child understands that no one has the right to hurt them or scare them in any way. It doesn't matter what that person may be: family, friend, religious leader, community leader, it doesn't matter.
Should anyone hurt your child or threaten them in anyway, they need to tell you.
Later in the conversation, Smart added, "Practice screaming, encourage your kids to fight back, there is a place and a time when it's not only acceptable, it's encouraged. An organization that I work closely with is Rad Kids it's all about prevention education and you can learn more about them at www.radkids.org."
Another participant asked: "Is there anything you noticed in your captor, whether it be a certain look or manner of speech that would serve as a red flag for you if saw/heard from another person?"
Smart replied: "There are things that make me wary, one of them being when someone uses religion excessively to justify what they've done or are going to do."
She also had advice for anyone who has experienced serious trauma.
"What has happened is terrible," she wrote. "But the best punishment you could give them is to be happy. By feeling sorry for yourself and reliving it… you're only allowed them to steal more of your life away from you. I don't think this means you'll never have a bad day again, or never struggle or feel frustration or anger. I think it just means have your end goal always be happiness."
The Reddit discussion comes in the same week that A&E Networks will premiere the first of part of a two-part documentary timed to the 15th anniversary of the abduction, while a Lifetime movie follows next week.
"Elizabeth Smart: Autobiography" will air in two 90-minute installments on A&E Nov. 12 and 13, and the Lifetime Original Movie "I Am Elizabeth Smart" — starring Skeet Ulrich, Deirdre Lovejoy and Alana Boden — will debut on Nov. 18. Smart cooperated with the making of the documentary and TV movie.
Smart, a member of The Church of Jesus Christ of Latter-day Saints, was 14 in 2002 when she was kidnapped from her bedroom in the Federal Heights area of Salt Lake City.
When she was recovered nine months later, it was revealed that she had been taken as a second "wife" for a self-proclaimed prophet whose real name is Brian David Mitchell. Mitchell is now serving a life sentence without possibility of parole.
Smart revealed back in September she had thoughts of suicide after being raped by her abductor.
"I don't think there's a single victim out there who hasn't considered suicide at one time because of what they have gone through," Smart said on "Crime Watch Daily," a syndicated television show to which she contributes.
"For me, because I grew up in a very conservative Christian neighborhood, the first time I was raped I remember feeling devastated," Smart told show host Chris Hansen.
Smart now runs a foundation dedicated to helping kidnap victims and their recovery. Missing young people from Utah she has championed include Macin Smith, missing for more than two years from St. George, and Elizabeth Salgado, who disappeared in Provo in April of 2015.
Smart, who turned 30 on Nov. 3, lives in Park City with her husband and their two young children. The couple met while each served a France-Paris mission for the LDS Church.