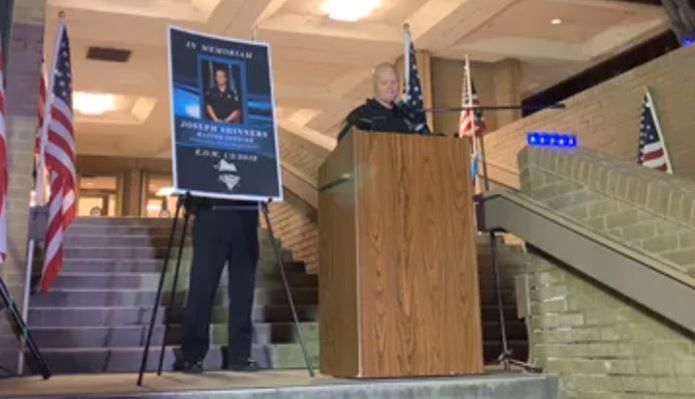 PROVO, Utah, Jan. 9, 2019 (Gephardt Daily) — Not all the officers who wanted to be at the vigil for fallen Provo Police Officer Joseph Shinners could be there Wednesday night.
Several were busy in the aftermath of another potentially deadly situation. A SWAT team was called in after a Provo man with felony warrants held police at bay, barricaded inside his apartment from 1 p.m. into the early evening.
Wednesday's SWAT operation ended peacefully, but outcomes are not something you can't always predict, several noted at the vigil for Shinners, who died Saturday night in Orem after a suspect with felony warrants fired on him during a police operation to take the man into custody.
The suspect, Matt Hoover, was taken into custody. Shinners died at the hospital from shots to his torso.
"Joe's character is service," Chief Rich Ferguson told those who braved the 38-degree temperature to attend the vigil, held outside the police department.
"As a chief, he brightened my day. I loved Joe. He was a scrapper, a hockey player. He wasn't afraid to get in there and take the bad guy to jail, to do what he had to do.
"He also was the guy that would give a hug to somebody who was on their way to jail. That's his character and that's who he is. And we're going to survive, as a police department, because of what I'm looking out at right now."
Ferguson talked about the strength and resilience he saw in the faces of the crowd. Resilience was like a tree branch that held a heavy weight, then bounced back, he said.
"By you being here, it helps us continue to bounce right back, because just tonight, we had to do another SWAT operation. I am happy to say all my officers are safe, and the suspect is safe."
"To the Shinners family, Joe will never be forgotten in this community or in this police department," Ferguson said. "And to Kaylyn, we will not forget you, we won't leave your side, we will not leave you. And to little Logan, I heard some tributes last night from his (Joseph's) brother officers. They're going to make sure he knows the man his dad was."
Logan is 1 year old.
To see the entire vigil and tributes, view the Provo Police Department video below.