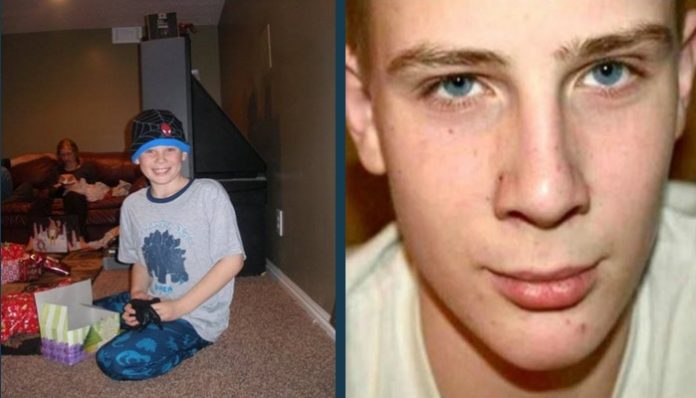 ST. GEORGE, Utah, April 7, 2019 (Gephardt Daily) — Turning 21 is the biggest milestone in any young person's life; the day when a teen becomes an adult, and a boy starts to decide how his life might unfold now he's a man.
But for Macin Smith's family, heartbreakingly, that is a transition that they might never get to see, as they face the 21st anniversary of his birth Sunday.
Macin went missing from his home in St. George at age 17 on Sept. 1, 2015.
For Macin's mom, Tracey Bratt-Smith, these three years and just over seven months have been a roller coaster of emotions, as she faces the fact she may never get to see her son as a grown man.
Since Macin went missing, Bratt-Smith, who last summer got divorced from his dad, Darrin Smith, has spoken to Gephardt Daily on numerous occasions, and she also spoke to us exclusively this week.
She said Macin's 21st birthday has brought up a myriad of emotions.
"How do I express my feelings regarding my boy's birthday that literally defines the rite of passage into adulthood," she said. "I can still only imagine him as that 17-year-old kid that was so unsure of learning to drive and had the lofty goal of being the next Benjamin Burnley. My heart continues to ache for my lost son."
Burnley, she adds, is the founder and frontman of Macin's favorite band, Breaking Benjamin.
Bratt-Smith said she will be visiting a bench that was recently made to honor Macin and placed in the newly built Crimson Ridge Park on 3000 East.
The custom-made bench is inscribed with the words "Never Give Up; Never Surrender."
The bench also features an anime portrait of Macin, depicting him as the 17 year old he was when he walked away from his home early in the morning when his parents thought he was on his way to school. That date is also inscribed on the bench, as well as Macin's date of birth. The bench has been placed just a block-and-a-half from where he went missing, and it overlooks the red rocks that he loved.
"We will most definitely be visiting his bench on Sunday," Bratt-Smith said. "I'll be picking up some blue helium balloons and writing a message or two on them. Whether I tie them to the bench or set them free into the desert sky, I'm unsure of at this point. Also, I'm making a point to do a 'Macin hike' that day. Ice cream cake and some candles will also be a part of his birthday. I love to recognize each of my kids on their intended day and Macin's will be no different."
Bratt-Smith said she's glad the bench has been a source of comfort to friends and family since it was unveiled.
"I have not been out to the bench as much as I've liked due to some family challenges these past few months," she said. "However, one thing I can say for sure, is I've had incredibly good feedback regarding his bench such as co-workers stumbling upon it on accident and then drawing the connection and others who have intentionally made the drive and spent some time on the bench reflecting. I've sent more people than I can recall out to the park and it's been an exciting project to share with everyone."
Bratt-Smith also added she took the book of letters that was sent to her by Macin's Army and read through a lot of them while pondering the memories of her son.
"It was a beautiful day," she said. "I was so touched by the continued support I have from family, friends and complete strangers."
She added that though there are currently no scheduled events or searches planned for this year, family and friends will do spot searches, so those areas can be crossed off a comprehensive map.
"There have been no new leads generated in the case," Bratt-Smith said. "A few weeks ago, there was a body found in Toquerville of a male, but he was in his 30s. For a brief minute, I was thinking it was my boy. Toquerville would of been a reasonable stretch. Feels like Macin's case has been in limbo for some time now."
We also asked Bratt-Smith what advice she might offer to another family dealing with a missing person.
"Advice? I still feel so inexperienced in grief," she said. "I guess what I've learned through my kids that are still with me is try not to focus so much on what you've lost that you miss out on those that continue to be in your life. In other words, focus on the positives as there is ALWAYS something to be grateful for. Life goes on whether you want it to or not. My children have continue to hit milestones, accomplish and evolve in their lives. I miss Macin every day; so does each and every member of Macin's family but there is joy in the journey of life regardless of whether you get to walk it with everyone intended to be present in that journey."
Macin, the youngest of the Smith's six children and the only one who was still living at home, left behind his cellphone, wallet, laptop and his school binder.
He did leave a note, which his parents discovered a week later, folded inside his wallet. They have not released the contents, preferring to say the note contained an "intent," which led them to believe he may have planned to harm himself.
Macin has light-blue eyes, and he had short blond hair when he went missing. He is 6 feet 4 inches tall and weighed 200 pounds before his disappearance.
There is a $10,000 reward in place for information leading to Macin's location.
His story was featured on an Investigation Discovery Disappeared episode entitled "The Silent Son."
The latest information about Macin is posted on a Facebook page dedicated to finding the young man; for more information click here. Anyone with information about Macin is asked to call the St. George Police Department at 435-627-4300.