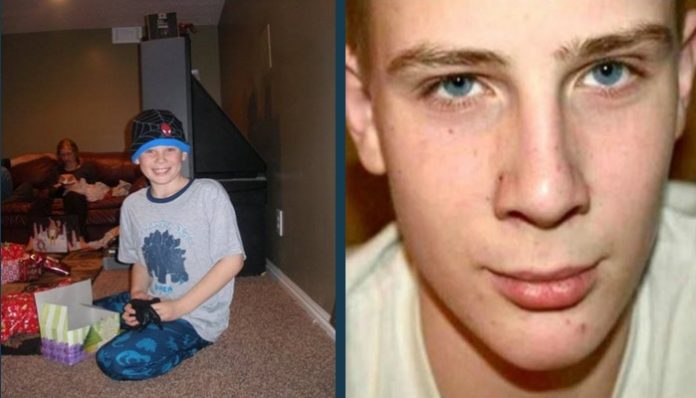 ST. GEORGE, Utah, Dec. 10, 2017 (Gephardt Daily) — For many of us, Christmas is a time of togetherness and joy.
But for those that have a missing or departed family member, it can be perhaps the most challenging time of the year.
And this rings true for the family of Macin Smith, as they face their third Christmas without the teen, who went missing at age 17 on Sept. 1, 2015.
Macin walked away from home early in the morning when his parents thought he was on his way to school, and effectively vanished without a trace.
For Macin's mom Tracey Bratt-Smith and dad Darrin Smith, these two years and three months have been a roller coaster of emotions — some moments of optimism when there is a lead that might be sound, but also, the unbearable limbo of having absolutely no idea where their youngest son might be, or indeed if he is still alive.
Bratt-Smith and other family members have posted Facebook updates as often as they feel able to on the Help Find Macin Smith Facebook page — with a membership that has swelled to 52,668 — in the hope of bringing him home.
In a post Sunday, she writes about how she has faced each Christmas season, and how limbo for her "equates to personal hell."
Her entry for Dec. 10 begins:
Dear Macin's Army:
Sleep is becoming erratic again and my whole mantra of becoming "better" instead of "bitter" is taking a back seat as I attempt to maneuver through this holiday season. This marks the third year of not having Macin home for the holidays. The first Christmas I entertained buying gifts for him and anticipated the high probability that he would be home. The second Christmas we did something different and went back east to stay with my oldest boy and his sweet family. I couldn't believe how much I slept through. It was a blur and I felt like an observer from the outside looking in. This Christmas I feel a merging of depleted hope, sorrow and, dare I say it, anger. Nothing has really changed in all the days that have passed since Sept. 1, 2015 and limbo to me equates to personal hell. 
Bratt-Smith also addresses those who have lost a child, writing about how the holidays crystallize the feelings of pain and loss.
For those who have lost a child, do you turn off the radio when the Christmas music disrupts your regular choices of escapism? Or avoid Christmas parties like the plague? Or view others anxiously engaged in the Christmas spirit and find yourself questioning why you feel nothing but apathy? The holidays haven't been my thing for many years, but I find myself becoming more and more like a stranger to the whole tradition thing since the disappearance of my youngest. 
Can you tell I've been stuck in my head for a few days? There is so much suffering in the world and I think at times, these "happy" occasions can exacerbate the void one is already carrying. Almost causing a greater barrier between joy and sorrow and potentially making joy seem insurmountable. I have no remedy. I have no inspirational quote to share or scripture that will solve some of these life quandaries. It just is. Everyone's story is different and their journey is so unique and the human spirit continues to be evident. At times I need to draw on the strength of others as I have a limited supply. So this past week, it's been my husband's turn (poor guy.)
Bratt-Smith told Gephardt Daily exclusively there are a couple of pieces of information that the family will be receiving imminently that they hope might provide some answers.
Back in October, a plain white extra large T-shirt was found during a search of a wash located in Little Valley, near Little Valley Elementary School, near the Smith's home. The T-shirt, laden with mud and torn in multiple places, was turned over to police and the Smiths are hoping to hear this week whether police have tested the item for DNA.
The Smiths are also due to receive the hard drive from Macin's laptop this week.
Bratt-Smith concludes the Facebook post, which has close to 200 comments and 600 reactions, by writing of how she is trying to use her faith as a comfort.
Recently, Darrin bought me a picture of Christ and I've looked at it every day since for long periods of time. I've felt more connected to Him on one hand as I am reminded of the knowledge that He walked the earth and changed the course of human history forever. He is my ultimate example on how to bear pain and suffering with dignity. On the other hand, I think there's a huge disconnect with all the superficial traditions of Christmas that supposedly "honor" the birth of Christ. And this is where my negative attitude kicks in. I don't want to feel the pressure to celebrate on demand. I'm stubborn. I will push back. I think the daily things I do and the way I live should be enough to honor my Savior. After all, He's the One with me every day, traveling this road with me. Just don't ask me to watch "Elf" or go caroling or participate in a white elephant exchange; you may not like the answer you get; but I will try really hard to be nice about it.
Love,
The Momma
P.S. No better Christmas gift would be to have my family reunited once more. Macin come home.
Bratt-Smith told Gephardt Daily back in October another search is being planned.
"Our admin team and the family will be consulting on where to go from here, but we definitely have a lot more ground to cover," Bratt-Smith said. "An equestrian team is being assembled and will do the most difficult part of the Virgin River, and I have some volunteers that will be doing some of the harder mountainous areas in the back of our house."
Macin, the youngest of the Smith's six children and the only one who was still living at home, left behind his cell phone, wallet, laptop and his school binder.
Macin did leave a note, which his parents discovered a week later, folded inside his wallet. They have not released the contents, preferring to say the note contained an "intent," which led them to believe he may have planned to harm himself.
Macin has light-blue eyes and he had short blond hair when he went missing. He is 6 foot 4 inches tall and weighed 200 pounds before his disappearance.
There is a $10,000 reward in place for information leading to Macin's location.
Anyone with information about Macin is asked to call the St. George Police Department at 435-627-4300.