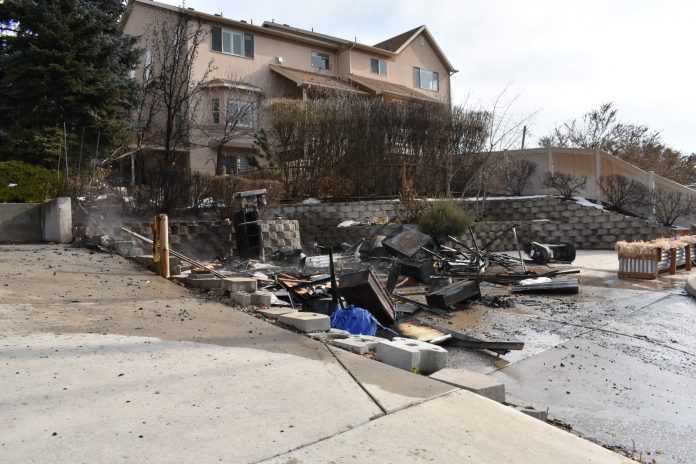 SALT LAKE CITY, Utah, Jan. 14, 2017 (Gephardt Daily) — What was initially reported as a possible explosion early Saturday afternoon turned out to be a volatile fire sparked in a nearby resident's wood shop shed.
Capt. Dave Chugg, Salt Lake City Fire Department, said the "boom" callers reported was probably the sound made when sawdust and wood caught fire all at once. No one was injured in the "rapid-progression fire," which destroyed the shed but did not threaten nearby structures.
"We had an individual, he planned on doing some woodworking in his shop," Chugg said. "He turned on a kerosene space heater, and he had some family and friends come and visit, and he left it unattended. At this point, that's what we believe started the fire."
Firefighters responded to the scene at 533 N. Cortez St. After the limited scope of the fire was revealed, Chugg released some responders from the scene.
"Just given the fact that it was a smaller structure, not threatening any residences or anything else," Chugg said of the decision. "As soon as we got a good handle on it, we released those other crews."
"Given the fact that it's a woodworking shop, there's a lot of dust, a lot of wood, you know, it's a pretty big fire," he said. "But fortunately, it was faced very well away from any structures, any houses, any vehicles, so that was the majority of the damage, just to that one shed."