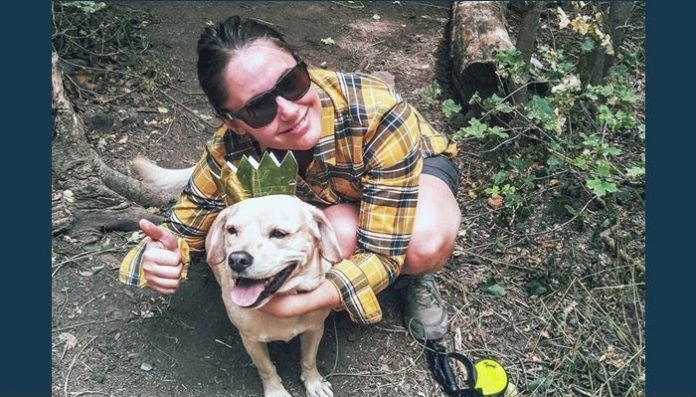 STANSBURY ISLAND, Tooele County, Utah, March 6, 2019 (Gephardt Daily) — The woman who died after a boulder rolled onto her while she was hiking Saturday on Stansbury Island has been identified.
She was Sarah Knight, 37, of Salt Lake City, a GoFundMe page established by husband Tanner Knight says.
Lt. Travis Scharmann, of the Tooele County Sheriff's Department, said that on Saturday, the first call was received by dispatch at about 2:45 p.m., reporting that the woman was trapped under a boulder.
She had been hiking with her husband and a friend, Scharmann said, when she stepped on a loose boulder and fell, with the rock coming down on top of her.
Four people were unable to move the roughly 4 foot-by-4 foot rock, which probably weighed about a ton, and equipment had to be brought in to lift it, Scharmann said. The operation took several hours because of the steep terrain and snow.
Knight died before the rock could be removed.
The GoFundMe page, which has surpassed its $5,000 goal to help with expenses related to the death, also paints a picture of who Knight was in life.
"Sarah Knight, Tanner's wife, passed away in a freak accident while hiking with Tanner and a good friend," the page says in part.
"For those of you who hadn't had the opportunity to meet Sarah, I'd like to help paint a picture of who she was. Sarah was a New York State native who met Tanner back in their home state while Tanner was visiting family.
"Sarah got her graduate degree in special education and moved to Utah with Tanner back in 2011. Sarah worked countless hours as a Special Ed teacher here in the SLC area for several years. It was always Sarah's nature to give and support others."
The couple married in 2012, the page says, and Sarah began to work for a clothing company.
"When Sarah wasn't working, she still gave most of her time to support and feed others. If Sarah wasn't cooking an AMAZING meal for her friends, she was out in her garden tending to dogs, chickens, bees, and vegetables.
"Sarah was the embodiment of a true pioneer. She created an oasis in the backyard of their home that was right in the middle of a major city. Sarah's dedication to her family and home is like nothing I've seen before. Never did I leave Tanner & Sarah's house with an empty stomach or some more inspiration for the pioneer life."
Tanner liked to hike and bike ride through the mountains, the statement said, and she liked to introduce friends.
"Through Sarah, we met so many new friends from different worlds. The basic rule was… if this person is a friend of Sarah's then she's a friend of mine. She was a magnet for great people."
"Sarah's outlook on the world was so positive and peaceful… it was one of the most beautiful qualities that I've seen in a person.
Sarah was the one of the kindest, most unselfish, truly beautiful, inside and out, people I have ever met in my life. If you've ever wondered why Tanner is such an amazing person, then know that Sarah has been a big reason for that. Sarah's contribution to this world will not be forgotten. She has permanently made all our lives better."