WEBER COUNTY, UTAH – August 23, 2015 (Gephardt Daily) – Utah Highway Patrol has identified the family involved in the fatal accident that claimed two lives on Sunday.
Ryan Chambers, 30, from Layton, his wife Alyssa, and their two daughters, Evelynn, 4, and Kaya, 7, were stopped behind a semi truck on the freeway when the their car was rear ended by a Chevy passenger car at freeway speeds. The Mazda was pushed into the rear of the semi truck killing both Ryan and Evelynn.
Alyssa and Kaya were transported to different hospitals in critical condition. As of Monday, Alyssa was upgraded to serious however Kaya remains in critical condition.
According to investigators, the accident happened around 5:20 p.m. on northbound I-15 in Weber County, when Utah Highway Patrol troopers were preparing to perform a traffic "slow down" to remove a dog house that had fallen from a truck onto the highway. (A slow down is where a marked unit(s) with lights and sirens moves back and forth across all lanes of traffic attempting to hold traffic back enough and creating a safe zone for another trooper to run into traffic to remove the hazard.) The traffic was already slowed to a stop on the freeway due to the dog house when troopers started the slow down.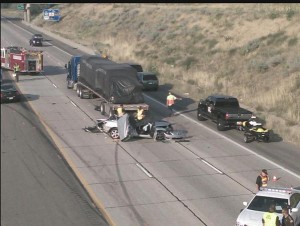 A dog inside the Mazda was also killed in the crash.
The driver of the semi and driver of the Chevy passenger car were not injured in the crash.
Investigators are asking for anyone with any information in regards to the vehicle that may have lost the dog house can call the Weber County UHP Office at 801-393-1136.