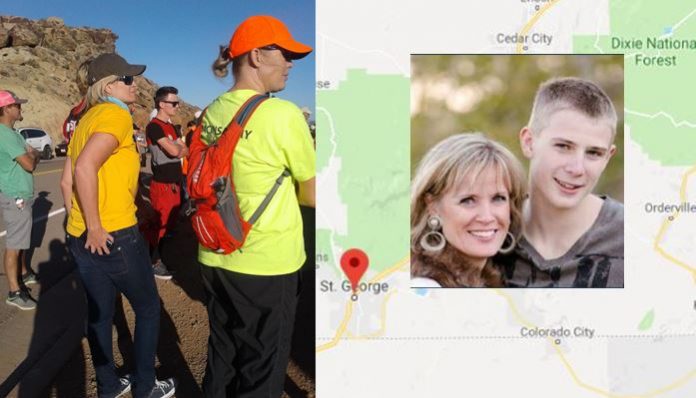 For an updated story, click here.
ST. GEORGE, Utah, Sept. 8, 2018 (Gephardt Daily) — Tracey Bratt-Smith led a group of about 100 volunteers Saturday in a search for her missing son, Macin, who disappeared three years ago from their St. George home.
It was a search close to home and close to heart, since it is focusing on the area within a couple miles of the family residence, and since what could be found of Macin, who disappeared at age 17, would most likely be his remains.
Bratt-Smith thought Macin had gone to school that morning, on Sept. 1, 2015. It wasn't until much later in the day that she and husband Darrin Smith discovered he had not taken his school supplies. The first of many searches for Macin began.
"Does everyone have water, snacks?" a voice called out Saturday as the group headed out in 77-degree heat, predicted to reach 101 before the day was out.
Kaitlyn Wilson said she was participating because she feels a connection to Macin.
"I was actually suicidal when I did go to high school and I did go to Desert Hills, and I just feel like I need to pay it forward," she told Gephardt Daily, adding that she wanted other people to know that suicidal thoughts are survivable, and to help provide answers for the Smiths.
"I just want to find him and give the family closure as well."
Wilson described the mood as Saturday's search started as somber.
"It's very tender, just knowing that it's possible suicide was an option for him. He did have past history. This is the closest place, and they say that if someone's going to commit suicide, it's within two miles of the house, and this is the closest we've ever searched to his house."
David Findlay, of Salt Lake City, first met the Bratt family and daughter Tracey when she was 14 and he was serving in Canada as a missionary for The Church of Jesus Christ of Latter-day Saints.
"Tracey Smith, Macin's mother, was part of the most amazing family to me when I was on a mission in British Columbia, Canada, back in 1981," he said. "Their parents were one of the memorable highlights of my mission."
"So Tracey has grown up, had an incredible family, and unfortunately, this happened to her with Macin. That's how I heard about it, and the reason I followed it, and the reason I'm here. If we can help her come to closure on it, it's a bittersweet moment."
The search for Macin Smith has been covered for three years by Gephardt Daily. In that period, a Facebook support group, Help Find Macin Smith #MacinsArmy, has grown to nearly 58,000 supporters from around the world.
A Discovery Channel episode of "Disappeared" focused more attention on the case, but provided no fruitful leads.
Gephardt Daily will provide more information on this developing story as details become available.