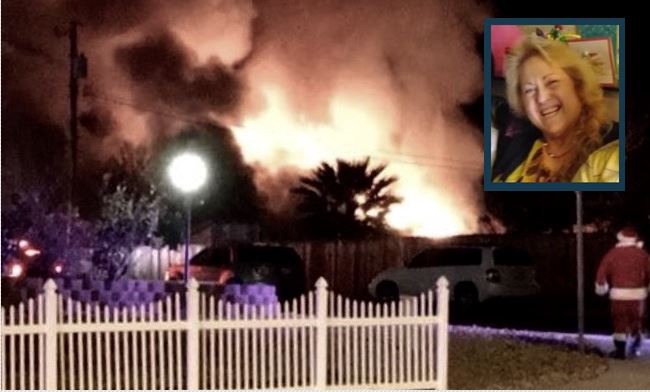 IVINS, Utah, Dec. 26, 2017 (Gephardt Daily) — The Ivins family that lost its mother in a Christmas Eve house fire is praising one of its own for their gallant attempts to save the elderly woman.
A family friend has set up a GoFundMe account for anyone who may want to contribute to paying hospital bills for Evon Hunt, who suffered burns and smoke inhalation after running into the home she shared with her elderly, bedridden mother, Zenetta Winsor Hunt.
Evon's sister and Zenetta's daughter, Sara Hunt Boatright, wrote a message from outside her sister's hospital room, and shared it with Gephardt Daily.
"Zenetta Winsor Hunt is my mom," Boatright wrote. "She lost her life in the house fire on Christmas Eve."
Boatright said her sister, Evon, gave her permission to share details of the story.
"She is still incubated in the ICU because she tried to carry, then drag my mom out of the fire unsuccessfully," the letter says. "The fire started with the wiring in the wall behind my mom's bed. It burned through the wall and spread so fast that she couldn't do much, but tried anyway. She nearly lost her life trying to get my mom out. She is our hero."
Another hero is a female neighbor who ran in when she heard Evon Hunt scream, Boatright wrote. The woman said Evon Hunt had dragged her motionless mother to the hallway, but the neighbor knew it was too late, and " … made my sister leave to save her life. We are forever in her debt."
Hunt tried to get a breath of fresh air and return to the house, but police restrained her since the back of the structure was fully engulfed.
"My sister did more than she should have and is paying the price in ICU right now," Boatright wrote.
Boatright praised her mother as an "angel on Earth," who raised 12 birth children and a foster son, and fed and clothed other children " … without anybody taking notice. She was a magnet for children in need." Back when her health allowed, she also helped the elderly, her daughter said.
"My sister inherited my mom's angelic qualities and has been taking care of our mom and dad in their own home for several years," Boarwright wrote. "My dad passed away a few years ago and my mom begged her to stay as her health was failing as well. She (Evon) has put her whole life on hold and has selflessly and wonderfully taken care of them both for years.
"She is devastated with this fire. It is going to be a very difficult recovery, probably more emotionally than physically even though that is bad enough."
Boatright said she hoped her family would be treated with dignity at this difficult time.
Anyone interested in the GoFundMe page, which now has a $25,000 goal, can find it here.