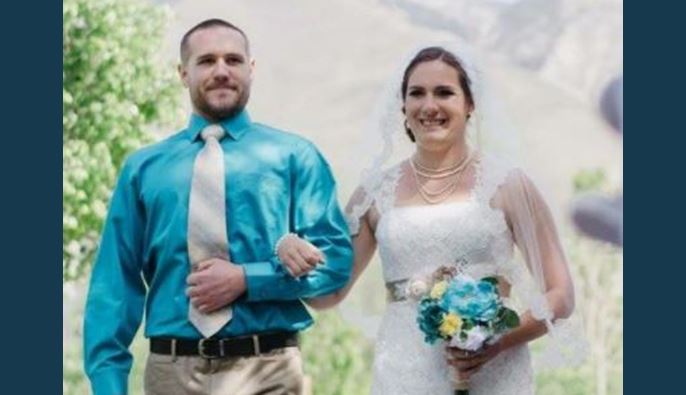 For an update on the officers, click here.
SOUTH OGDEN, Utah, April 7, 2018 (Gephardt Daily) — Joshua Budge wants to thank the Kaysville Police officers who risked their lives to save his brother-in-law, Tyler Ivison, who set himself on fire Thursday in the restroom of a Kaysville convenience store.
"Praise be and thanks to each and every one of the officers who saved his life," said Budge, whose wife, Kayla, is the sister of 26-year-old Ivison, who lives in the Budges' basement in South Ogden.
"They (the officers) saved Ty's life," Budge said. "He would be dead if not for them. They are all heroes, and I am extremely sorry they had to be there and do that for him."
Three of the four officers who were transported to hospitals have now been released. The remaining officer, who suffered burns to his back, arms and face, is expected to be released in a little more than a week, Budge said.
"They are expected to make a full recovery, and we are so glad," he said. "We would like them to know the Tyler they saw in that restroom was not him. That's really not who he is."
Budge wants people to understand that before Ivison began to suffer from schizophrenia and bipolar disorder, he was a happy, normal guy.
"He is a person. He's a country boy, happiest with a fishing pole in his hand, camping, and passionate about his life," Budget said. "He's a fun-loving individual who can shake the floorboards with his laugh."
Ivison has a job as a metal cutter with a boss who is ready to hire him back should that be possible, Budge said.
What officers encountered in that convenience store restroom was not the man loved by his family, friends and coworkers, Budge said.
"That was him one percent of the time. That was the disease."
The manic episode
It was about 3 p.m. Thursday when Kaysville police officers were summoned to the Top Stop/Chevron station at 220 S. 300 West after a man later identified as Ivison doused himself with gasoline and stood in the restroom with a lighter, intending to burn himself to death.
The officers were trying to wrestle the lighter away when spark met fabric. Officers were caught up in the explosive blaze, but stayed to save Ivison from a fiery death.
Two officers and Ivison were transported by medical helicopter to the University of Utah Hospital. Another was taken there by ground ambulance, and a fourth officer was checked at Davis Hospital, in Layton.
Budge said Ivison was in critical condition but awake upon arrival in Salt Lake City.
"He was conscious, screaming in agony and intense pain. He was put into a medically induced coma, and they're keeping him that way. He's on a ventilator.
"He's alive. Doctors are hopeful, but it's a very long road to recovery."
Mental illness
Budge said Ivison had his first episode about five years ago, but he was not violent, and it passed quickly. The next came maybe six months later, and there were three or four episodes the following year. It got worse each year.
Early on, Ivison would laugh off the episodes, Budge said, and would comment "I was talking crazy for a while." Later, Ivison would blackout and have no memories from his episodes, and police would often become involved, Budge said.
He and other family members took Ivison to multiple area hospitals while he was manic, and staffers gave him anti-psychotic drugs, Budge said. Once Ivison was stabilized, the hospitals were not able to to detain him if he wanted to leave.
"When he's manic, he feels invincible," Budge said. "He told them he was fine and had to go to work."
Doctors wrote Ivison prescriptions, which did help with the schizophrenia, and made the voices go away, Budge said.
But no plan for aftercare was offered beyond a handout with phone numbers that might help, even after Ivison had insurance in place, Budge said.
When Ivison's conditions were finally diagnosed after a suicidal episode in February, the family was able to set up a psychiatrist appointment for Ivison.
It's set for next Friday, a little too late, Budge said.
Call to action
Budge agreed to talk with Gephardt Daily in hopes he could draw attention to the needs of the mentally ill, whose neurological conditions are often viewed as somehow less legitimate than diseases of other organs, he said.
"This affliction is like heart or lung disease," Budget said. "Ty has got a brain disease that affects who he is some of the time."
Budge wants to see reforms in the healthcare system that would allow for more proactive psychiatric treatment. Budge said his own father also suffered from schizophrenia and bipolar disorder, and threatened to kill himself and his children.
Budge said his mother took the kids and left, but years later, his father was able to find help and the combination of medication that allows him to live a productive, more normal life.
Ivison has the support of his whole family, Budge said, including a mother and wife who share the house's lower level.
"Not everyone has that support system," he said. "We are doing everything we can do to fight for him. What happens to the people who have no one to fight for them?"
The healthcare system has failed Ivison and others with mental illness, Budge said.
"I don't have solutions, but something needs to be done," he said. "There needs to be a treatment plan in place before people are released. The whole incident at the gas station could have been avoided. The system failed Ty, and it's failing others as well."
A GoFundMe account to hep pay for Ivison's care has been set up by his family. It can be accessed by clicking here.