ST. GEORGE, UTAH – November 2, 2015 (Gephardt Daily) – The family of missing St. George teenager Macin Smith is planning a social media blast to coincide with the day he will have been missing for ten weeks.
The 17-year-old walked away from his family's St. George home in early September. He has not been heard from since, and November 10 is the ten-week anniversary of his disappearance.
The Facebook post on the newly created invitation Macin's Posting Marathon said:
"It's time we get the whole world involved. One of the best ways to get the word out in today's tech world is to do a social media event. Our hope is to have Macin's story one of the top trending stories. How can you help you ask? This is how it works.
Macin's Army and any new recruits will:
(1) Write a post or share a post/picture related to Macin
(2) Make sure you hashtag #macinsarmy #bringmacinhome
(3) Continue to post/hashtag/share all day long
"If we have 10,000 people being proactive with this process simultaneously and continue to have their friends and associates do the same, recognition will happen at a macro level. The first 100 people to participate in this event on November 10th will receive a bracelet from Macin's Army as a thank you gift.
"The weeks keep passing and there is still not a sign or lead on my boy. Please get involved and let's BRING MACIN HOME!!!!!"
The Help Find Macin Smith page on Facebook currently has 9,916 members.
Macin was last seen in the Little Valley area of St. George on the morning of September 1 when he left for school. He left home without his wallet and cell phone and has not logged into social media since his disappearance. He did leave a note, but its contents have not been publicly disclosed.
The Smith family moved to St. George from Canada six months ago, and Macin is their last child living at home.
Macin is 6'4″ and 200 lbs. with short blond hair and blue eyes.

A $1,000 reward for information leading to Macin's safe return was posted by the Las Vegas-based Red Rock Search and Rescue Team last month. The group has been instrumental in organizing search efforts, and organized a search with RRSAR teams and dogs in late October.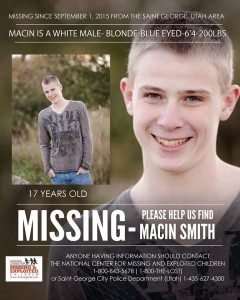 Search efforts for Macin have been extensive, with the biggest search carried out Saturday, September 26. Early indications suggested he may have headed to Las Vegas, but no leads have proved credible yet.
David Cummings, commander of RRSAR, said there have been no new leads. "Nothing, zero, there isn't even a remote clue where he is," said Cummings. "He's done the greatest disappearing act I've ever seen.
"We will keep searching until Macin is accounted for, however long it takes."
The group is currently conducting searches the public is not being informed of.
Macin's mom, Tracey Bratt Smith, said planning events such as the social media blitz gives her a renewed sense of purpose. "It's therapeutic to have events as milemarkers but I'm always hoping these things won't be necessary; hoping that Macin will walk through that front door any minute," she said. "We will do what we can with what we have though."
A St. George Police Department spokesman said the case is still active, an investigation is ongoing, and they are doing what they can.
A GoFundMe account has been set up for Macin. Click here for more information. For more about the search efforts, search #macinsarmy or the Macin Smith Facebook page.
Anyone with more information should contact the St. George Police Department at 435-627-4300, or Dave Cummings at RRSAR on 702-787-4068.
Click here to watch the first or second part of our exclusive interview with Macin's parents, Tracey and Darrin Smith.