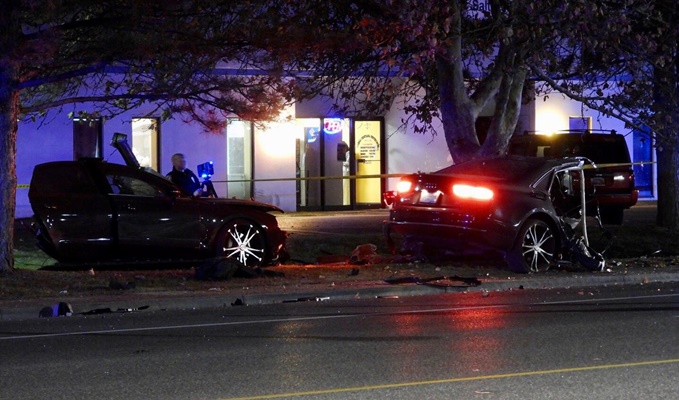 SALT LAKE CITY, Utah, Nov. 16, 2019 (Gephardt Daily) — Salt Lake City Police and the crash reconstruction team are at the scene of a fatal accident Saturday night on Redwood Road.
SLCPD Sgt. Josh Ashdown told Gephardt Daily the investigation into the two-vehicle crash is still in the early stages.
In order to facilitate the investigation, Redwood Road has been shut down from 1300 South to 800 South, and will remain closed to traffic probably into the early morning hours.
Ashdown said two people who were in a minivan are in good condition and being treated at a local hospital.
The driver of the other vehicle, an Audi sedan, died on scene.
"As best as we can tell, the key factor right now seems to be speed," Ashdown said, but he emphasized that the reconstruction team is there to determine the exact cause.
Police believe the sedan was traveling north on Redwood. Damage to the vehicle was so severe — the car was actually split in two — that police are unable to say for sure whether it struck a tree or another object in the area.
Ashdown said police have found very few witnesses to the crash, and they are asking anyone who saw the accident and how it happened to call non-emergency dispatch at 801-799-3000.