SALT LAKE COUNTY, Utah, Jan. 18, 2021 (Gephardt Daily) — A fatal hit-and-run suspect fled from officers Saturday night and was found hiding in manure pile in Goshen.
A probable cause statement from Utah County said Adalberto Ozeta, 30, is facing charges of:
Failure to stop or respond at the command of police, a third-degree felony
Possession or use of a controlled substance, a third-degree felony
Escape from official custody, a third-degree felony
Interference with arresting officer, a class B misdemeanor
Officers were advised of a vehicle being pursued in West Valley City, and heading towards Utah County by way of Redwood Road, the statement said. The suspect, Ozeta, was reportedly driving a stolen vehicle, had warrants for aggravated crimes, and was wanted for a fatal hit-and-run accident that occurred in South Salt Lake on Jan. 8.
"Officers located the vehicle at the Bluffdale/Lehi border and attempted to stop the vehicle," the statement said. "The vehicle fled from officers southbound on Redwood Road. The suspect drove into oncoming traffic and head on at a northbound vehicle. Due to the safety concerns officers discontinued pursuing, but were able to maintain visual of the suspect vehicle until a helicopter was able to pick up the pursuit."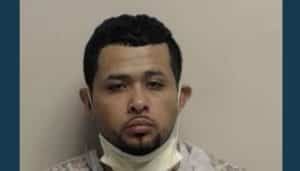 The suspect fled south on Redwood Road running red lights, passing vehicles unsafely and traveling at speeds in excess of 100 mph despite no officers pursuing, the statement said.
"The suspect ultimately got the vehicle stuck and fled on foot," the statement said. "Officers were able to locate the suspect trying to conceal himself in a pile of manure in the middle of a corral. The male was ordered to show his hands, but he kept them tucked underneath him."
Officers had to forcefully pull the man's arms out from under him. The man was taken into custody at that location, in Goshen, and a search of his person yielded a bag containing 1.23 ounces of methamphetamine.
The man later stated he swallowed approximately 1.5 grams of heroin. He was transported to the Mountain View Hospital in Payson for evaluation. Ozeta was in the ICU and one hand was handcuffed to the bed, the statement said.
The suspect slipped the handcuff and fled on foot out the emergency doors. He was found a short time later and taken into custody again, then transported to Utah Valley Hospital for medical clearance.
Ozeta has an extensive criminal history in the past three years including numerous convictions and pending cases for felony fraud and theft related charges, the statement said. He also has multiple warrants for his arrest for charges ranging from felony theft and fraud to aggravated assault on a police officer, fleeing and possession of controlled substances.
He was transported to Utah County Jail, where he is being held without bail.