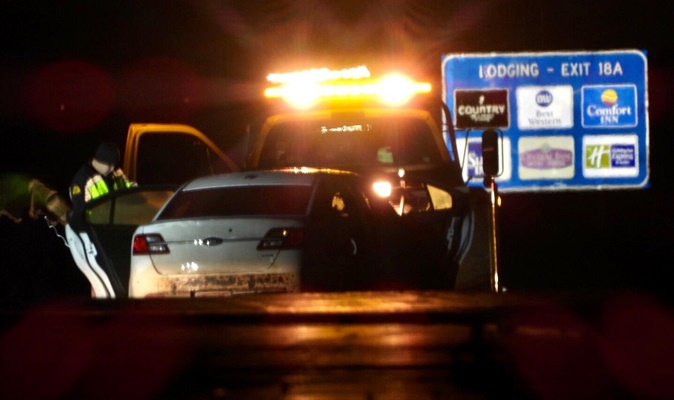 TAYLORSVILLE, Utah, Nov. 15, 2019 (Gephardt Daily) — Utah Highway Patrol troopers are at the scene of a fatal motorcycle crash Friday night in the northbound lanes of Interstate 215 West.
Traffic was being diverted at 4700 South, and drivers are advised to exercise caution in the area and use northbound Interstate 15.
Utah Highway Patrol Sgt. Alan Jensen told Gephardt Daily at the scene that the male motorcyclist was merging from 4700 South onto the northbound freeway when he lost control of the Yamaha bike and was struck by a white sedan.
The motorcyclist fell off the bike, and both the bike and the sedan traveled another 400 to 500 yards from the point of impact, with the bike under the car, Jensen said.
The Yamaha then burst into flames and the car also caught fire. Unified Fire Department crews responded and extinguished the flames.
The motorcyclist died on scene, Jensen said. The driver of the sedan, the only person in the vehicle, was able to escape without injury.
Jensen said the road was shut down because of the amount of debris in the middle of the freeway. The accident happened during heavy, rush-hour traffic.
The crash is under investigation, and officials were still on scene at 10 p.m.
Gephardt Daily will update this developing story as more information becomes available.