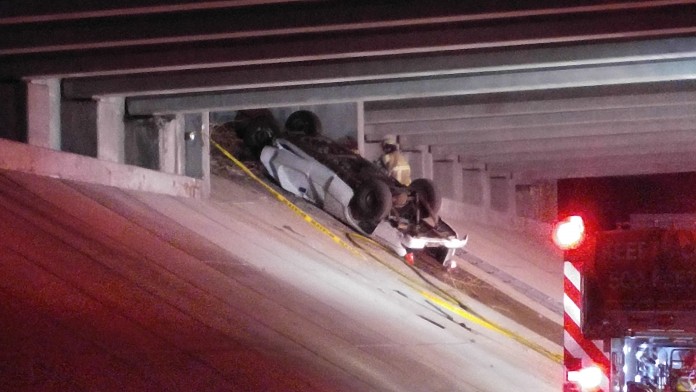 SALT LAKE COUNTY, Utah, Dec. 9, 2015 (Gephardt Daily) — The Utah Highway Patrol has revealed that the Sandy man who died Wednesday night on Interstate 80 in Parley's Canyon was Terrance J. Huffman.
Huffman, 66, died after his pickup truck drifted off the roadway, climbed the slanted barrier wall of an underpass, flipped over, and was partially crushed.
The white truck was heading westbound on I-80, near the Lamb's Canyon exit, when it drove off the left side of the road, said Sgt. Nathan Croft of the Utah Highway Patrol.
"He drove between the barriers of eastbound I-80 and westbound I-80," Croft said. "He drove in the in-between area, then he vaulted off, and kept going."
The truck stopped when it hit the underpass wall and slid upward, on its roof.
"We'll obviously investigate whether it was alcohol or drugs, or whether he was falling asleep," Croft said. "It could be texting or some kind of medical condition."