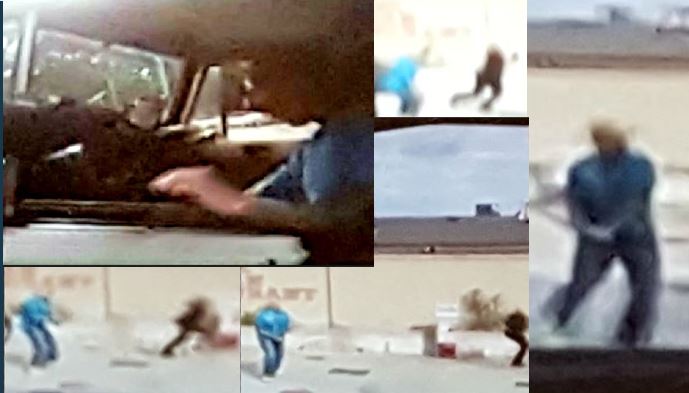 SALT LAKE CITY, Utah, Oct. 25, 2017 (Gephardt Daily) — Officials have ruled that a police officer's fatal shooting of suspect Michael Bruce Peterson last month in Salt Lake City was justified.
"The officers did everything by the book," Salt Lake County District Attorney Sim Gill said at a news conference on Wednesday afternoon from the Salt Lake County Council chambers.
Gill also showed body camera recordings related to the Sept. 28 police-suspect encounter, which ended in the shooting death of 39-year-old Peterson.
SLCPD Officer Gregory Lovell responded to the area after workers at a massage therapy office called to say the suspect, later identified as Peterson, entered the establishment, sexually assaulted an employee and refused to leave.
When Lovell responded, Peterson was leaving the establishment, and briefly tried to get into the officer's patrol car before walking away, northward.
Video showed Lovell following Peterson from a distance, asking him to stop. Peterson stopped at a multi-story building and tried to enter, but could not. He continued northward, with Lovell following closely.
Peterson then approached a Jeep outside of a Maverik station near 500 East and 300 South, and sat in the driver's seat. Gill revealed to those watching the video that the car was not owned by the suspect. When Peterson refused to get out, Lovell used a Taser on him.
Video shows that Peterson then exited the Jeep and started a physical fight with Lovell, who tried to defend himself using a police baton. The video captures a turning and tumbling footage. Gill told viewers that the suspect took the baton and used it to beat Lovell, breaking his ankle and nose.
A second officer, SLCPD Lt. Andrew Oblad arrived as backup, had a brief physical fight with Peterson, then fired 10 bullets, killing him.
Gill praised Lovell's tactics of talking to the man from a safe distance, then using his Taser, and finally using a baton to try and subdue the violent suspect.
Oblad's use of deadly force was justified, Gill said.
The investigation included viewing of the footage and interviewing the officers and all available witnesses, Gill said. He praised the two Salt Lake City Police officers, saying they acted in keeping with their training and met the standards set for such situations.