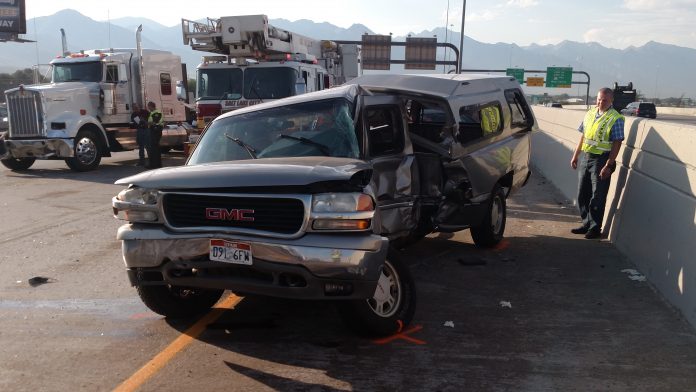 SALT LAKE CITY, Utah, July 29, 2016 (Gephardt Daily) — Five lanes of Interstate 15 in Salt Lake City were closed Friday morning due to a fatal accident.
Utah Highway Patrol investigators say the crash happened about 7:30 a.m. as northbound traffic on I-15 near 600 South was slowing due to a grass fire.
According to UHP information, a silver GMC pickup truck driven by Amber Orencole, 34, of Midvale, was traveling northbound in the middle lane and came upon the backed-up traffic.
Troopers say Orencole lost control of her pickup and ended up sideways in a left-hand lane, where her GMC was hit broadside by a semi-truck hauling a flatbed trailer.
Orencole's vehicle was driven into a concrete barrier. She was pronounced dead at the scene.
The UHP reports the HOV lane and four other lanes of the highway closed for the investigation of the crash.
Traffic expected to return to normal sometime Friday afternoon.