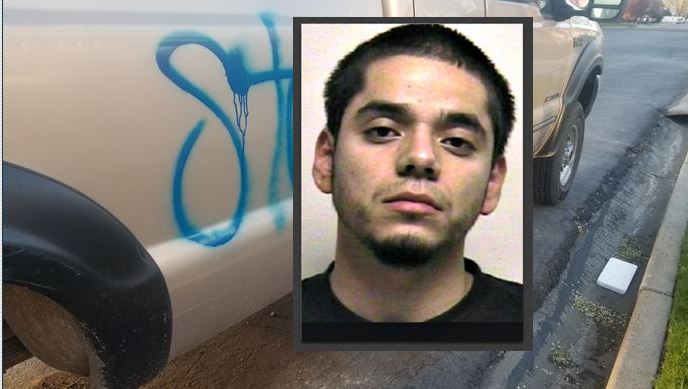 SPANISH FORK, Utah, May 23, 2018 (Gephardt Daily) — A documented gang member was arrested Wednesday for felony graffiti causing more than $5,000 in damages after a spree last month which included numerous police vehicles.
Jaime Garcia-Hernandez was arrested in the Salt Lake County area and booked into the Utah County Jail, according to a news release from the Spanish Fork Police Department. The arrest was made by Spanish Fork Police and Utah County Major Crimes detectives.
Spanish Fork Police officials received several reports of graffiti that had occurred during the night April 27.
"Some of the graffiti was found on Spanish Fork police vehicles, Utah County Sheriff's vehicles, citizens' fences, public fences, citizens' vehicles, businesses and city property," the news release said. "During the investigation detectives were able to recover a spray paint can from one of the scenes."
Fingerprints were found on the can belonging to Garcia-Hernandez. A witness also saw a male subject spray painting a fence who left in a Honda Fit passenger car. Video footage was obtained from a local business showing a silver Honda Fit leaving the area at the same time the graffiti occurred. A vehicle matching this description is owned and driven by Garcia-Hernandez, officials said.
The suspect is a documented gang member and associates with a documented member of the STG gang who lives in the Spanish Fork area, police said.
"This is an ongoing investigation with the possibility of more arrests to come," the news release said.