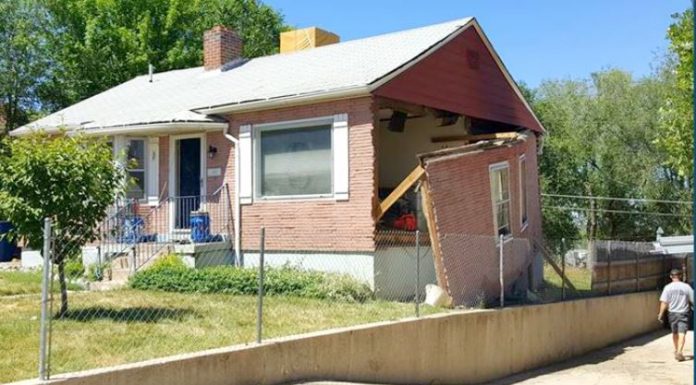 SOUTH OGDEN, Utah, June 12, 2018 (Gephardt Daily) — A fiery explosion in a quiet South Ogden neighborhood Tuesday knocked a house off its foundations.
Fire crews were summoned to 183 Country Club Drive at 8:01 a.m. They found the residence on fire, with the north outer wall hanging from the structure by bricks, mortar and splintered boards.
"When we arrived, it was obvious that the walls were blown out," Deputy Chief Rick Rasmussen, South Ogden Fire Department, told Gephardt Daily. "Police are still questioning the renter on what happened.
"We do know there was gasoline in the house, in use for something. We're not sure what, but that had to find an ignition source, probably the water heater."
"That's pretty typical when gas explodes," Rasmussen said. "Gas blows the bottom of the walls out, where if it's natural gas, it blows out the top, because gasoline is heavier than natural gas."
Rasmussen said he did not know if the lone female resident — a young woman, he said — was in the house at the time of the explosion, but he did know she was unhurt, as were firefighters.
"(The house) is probably a total loss because it moved every wall," he said. "They'll have to rebuild on the foundation, if the foundation is OK, which is to be determined."
He estimated the house had been worth about $150,000.
Rasmussen said firefighters were pulled out quickly once it was determined that no one was inside and the house was a total loss.
Besides South Ogden's, crews that had responded include Ogden, Roy, Riverdale, and the Weber Fire District.
"We had quite a few firefighters here initially, then we cut some of them loose," Rasmussen said. "There's not much sense putting firefighters in a dangerous situation when it's a total loss anyway."
The fire was put out quickly. After all walls were shored up, officials would pump water out of the basement and fire marshals from multiple agencies would investigate, Rasmussen said.
A fence will be installed to keep people away from the structure, which remains dangerous and unstable, Rasmussen.
A neighbor came over to tell Rasmussen there might be a free-range snake inside the house — or outside, since some walls were open.
"One day, the woman had a snake tank selling for $20, and I asked if I could buy it," neighbor Harley Marine told Gephardt Daily.
"I asked about her animals, and she said she had a big old boa loose in the house, just chill and hanging out."
Rasmussen made a few calls, and was able to determined that the resident had been talking about a snake she owned several years earlier.