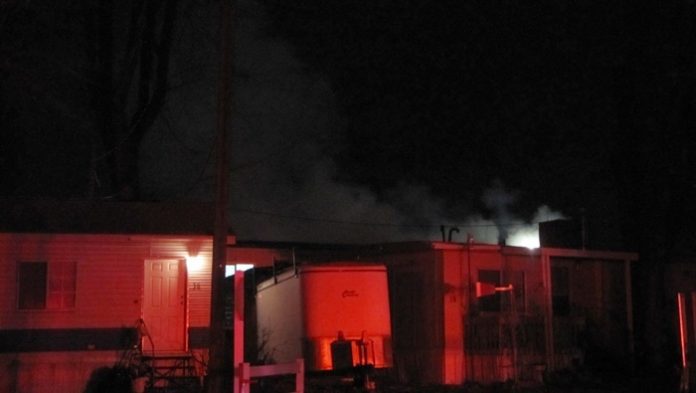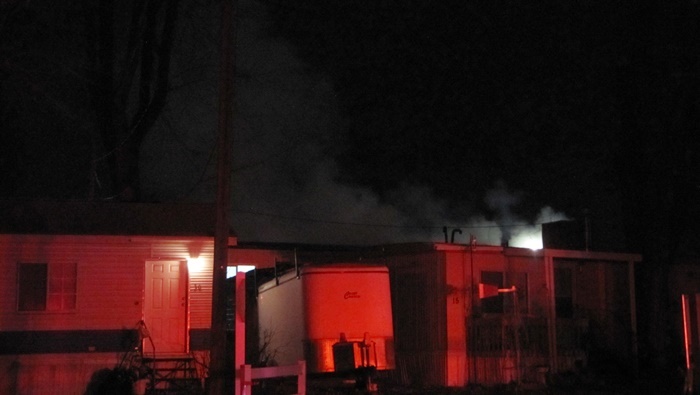 OGDEN, Utah, Dec. 8, 2019 (Gephardt Daily) — Ogden Fire Department crews  responded to a structure fire in a mobile home park north of the Five Points area at 12:20 a.m. Sunday.
The fire, in the Harrisville Manufactured Home Community at 200 N. Harrisville Road, broke out in one of the mobile homes and spread to two others before firefighters were able to get the blaze under control.
Ogden Police Department was on scene, blocking access along Harrisville Road between Second Street and North Street (400 North). Officers were handling traffic control as well as making sure that late-night bystanders remained outside the perimeter of the mobile home park.
A few neighbors from the park huddled together in the cold, damp air, as smoke from the blaze wafted high above the surrounding mobile homes.
Everyone was safely evacuated from the affected structures, the fire department tweeted shortly after crews arrived. Two people needed to be evaluated for smoke inhalation.
The fire was under control within about half an hour, and crews were performing salvage and overhaul operations by about 1:15 a.m.
An estimate of damages wasn't immediately available.
Gephardt Daily will update this story as more information is made available.