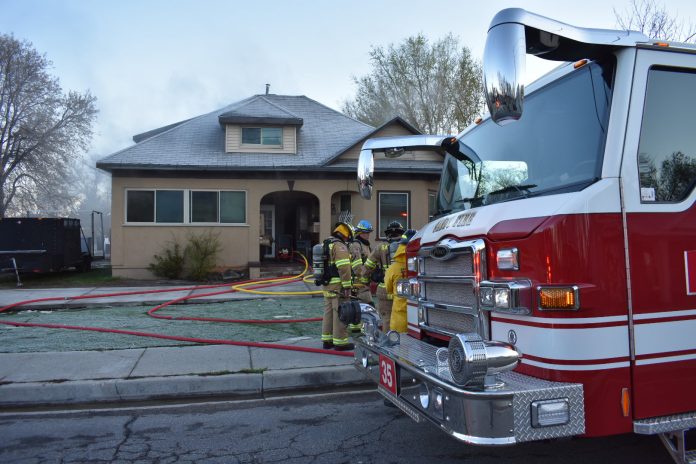 SANDY, Utah, March 26, 2017 (Gephardt Daily) — Fire crews are on the scene of a blaze that has caused an estimated $150,000 in damages to a Sandy residence, officials said.
Battalion Chief Chris Dawson from the Sandy Fire Department told Gephardt Daily that crews were called out at approximately 7:30 a.m. Sunday on reports of a fire in the backyard of the residence in the area of 50 E. Pioneer Ave. (8530 South), which is just off State Street.
Dawson said it appears the fire started in a shed area that was connected to the house. He said the renters were running generators because the power had been cut to the building.
"It turns out it was an outside building that was actually attached to the house itself, they were running some small motors in the shed area, it looks like it's possible they were generators," Dawson said. "It's possible they were refueling those, the cause is still under investigation, but it caught on fire and extended into the house."
He said the fire spread to the kitchen area, but crews were able to keep it out of the rest of the home.
There were no injuries to the two residents who were inside at the time of the blaze, or to firefighters. Five or six people will be displaced as a result of the fire, and Utah Red Cross is on scene to assist them.
A man who was inside the house, who did not want to be named, spoke to Gephardt Daily.
"I woke up cold so I went to turn the heat on," he said. "There was no power in the house. We all run our power by a generator. The first one gave out, so we used a smaller one early in the morning, or late last night. When I pulled the start, after I filled up the gas generator, it sparked immediately. The gas tank was right next to the generator and it ignited immediately."
The man said there was also insulation in the vicinity that the residents use to suppress sound, and that it caught fire. He added that he ran inside the house and instructed the female resident who was inside to call 911.
"I was freaking out, I had her give me a hose, she got me a hose, I started using the water from the hose to kind of slow down the fire," he said.
Investigators are on scene working to determine exactly what occurred, and the exact cause will be determined later Sunday or early Monday.