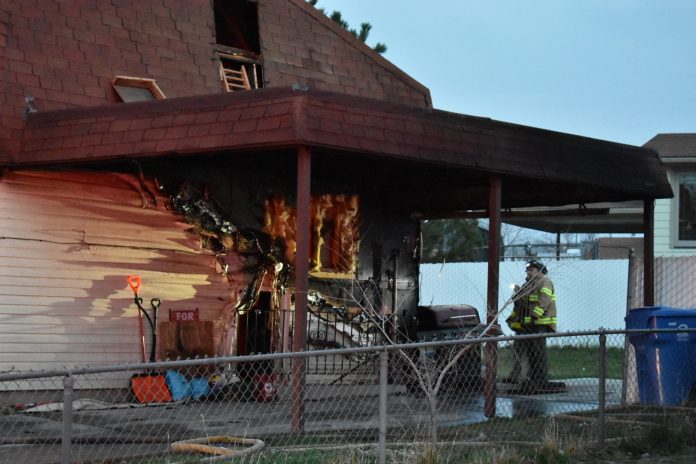 MAGNA, Utah, March 18, 2017 (Gephardt Daily) — A fire that may have started with a barbecue grill caused enough damage to displace four people Saturday night.
The call came in at 6:42 p.m. reporting a house fire at 7859 W. 3320 South. Firefighters arrived at the scene five minutes later and found a lot of smoke and visible flames, Unified Fire Authority spokesman Matthew McFarland said.
According to UFA Battalion Chief Ross Fowlks, the smoke was coming from the back right side of the home, and crews initially attacked the fire from outside. When they noticed smoke coming from the eaves above, they went inside and started pulling down the ceiling.
That's when a neighbor came over and informed the firefighters that the structure had two roofs.
"It has a pitched roof over a flat roof," Fowlks said, "which gives you a void space, where the fire went up the outside and into that."
As more crews came in, they made a hole in the roof and used an extension to pour water onto the burning area.
Fowlks said firefighters are grateful to the neighbor who told them about the double roof.
"It's vital information we wouldn't otherwise have."
He said it appears that the barbecue may have started the fire, but the exact cause is still under investigation.
Kenneth and Gilda Holder are the couple renting the home, which they share with two adult sons.
Kenneth said he and his wife had planned to barbecue, but he was asleep when the fire started because he had worked earlier in the day.
"We used (the barbecue) last weekend, and it worked fine," Gilda said. "There wasn't any problem."
She said she turned it on low and went inside to wake her husband.
"Three or five minutes later, things were all up in flames," she said, growing emotional.
Kenneth said, "The fire department came in really fast. I turned off the barbecue and moved my car, and started to use a hose to spray the fire — and the fire department got here."
Chief Fowlks said the family has been displaced, probably overnight, primarily because firefighters had to put holes in the walls and shut off the gas and electric. Most of the damage to the outside was superficial, he said, and the interior has mostly smoke damage.
The building inspector was at the scene, and the Red Cross is helping the family with a place to stay.
No one was injured in the incident.
Gilda Holder said the family's dog "got the worst of it," first hiding under a bed in all the commotion and then tearing a claw in an effort to run away.
"Firefighters rounded up the dog," Fowlks said. "Everyone's doing fine."
Fowlks and McFarland both expressed thanks to West Valley City Fire Department for assisting in putting out the fire.