TAYLORSVILLE, Utah, Jan. 26, 2016 (Gephardt Daily) — A Taylorsville trailer home was declared a total loss after a Tuesday morning fire.
"Neighbors reported finding a trailer that was on fire," said Brian Anderton, Unified Fire Authority Battalion Chief, who stood outside the residence, at residence, at 974 W. 4600 South.
"When our guys got here they encountered some heavy involvement with one of the trailers here," he said. "Early reports were that there were two children that were at home at the time of the fire. So even with heavy involvement, we were able to get inside and do quick searches. Between that and confirmation with the schools, we were able to confirm that everyone was out of the house."
The two adult residents of the home were at work, and the children were in school, Anderton said.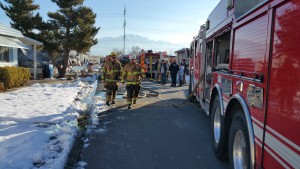 "This home has suffered damage that is going to keep the family out of the home," he said, adding that the residence was a total loss. "We've got the Red Cross coming to help them get back on their feet."
Anderton said he didn't know how the fire started.
"Our investigators will get in there and determine the cause. You know, these scenes where we come in and see heavy fire conditions and don't know if there are people in there, it really gets us."