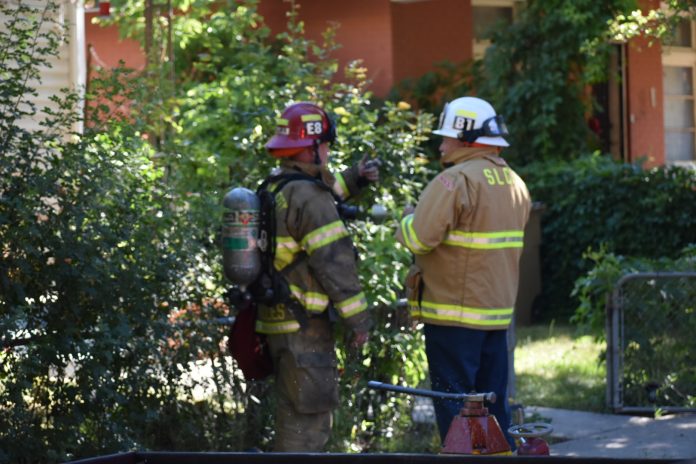 SALT LAKE CITY, Utah, June 25, 2017 (Gephardt Daily) —  Salt Lake City crews ensured a fire in a shed and garage in a densely populated residential area was quickly knocked down Sunday morning.
Salt Lake City Fire Department Cpt. Matt Gillies told Gephardt Daily the fire broke out at 118 Lucy Ave., which is just northwest of Smith's Ballpark, at approximately 8:45 a.m.
"It originally came in as a small outside fire, which can be anything from a recreational fire pit in the backyard to a barbecue that's gone wrong or any one of those small things," Gillies said. "We just had a 10-40 response which is no lights or sirens."
Gillies said the fire station is just located three blocks away, and by the time crews left the station they could see the fire was more serious.
"We could see it was much more than just a small outside fire, so we called for a full assignment which includes a battalion chief, a truck company and then two additional engines," he said.
"So we came down Lucy and realized the fire was in the back, so we accessed the fire through an alleyway, which got us a good position on the fire but a bad position on the resources. We had a hard time getting the water back there, so that was our biggest struggle, getting water to our initial attack engine."
The residents of the home and surrounding residences were evacuated as a safety measure.
Gillies said with an aggressive fire attack, crews were able to contain the incident to two outbuildings which are behind the residence, a shed and a garage. The fire was knocked down in about 20 minutes.
A second alarm was called to ensure the fire did not spread to nearby homes or garages.
There were no injuries to the residents or firefighters.
An exact dollar estimate of the damages was not immediately available; the cause of the fire is under investigation.