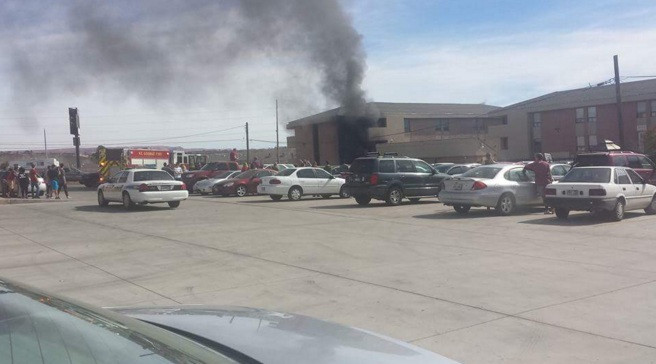 ST. GEORGE, Utah, Feb. 15, 2016 (Gephardt Daily) – A fast moving fire in a student housing facility at Dixie State University in St. George burned a maintenance worker and forced a dozen students to evacuate the building Monday afternoon.
According to St. George Fire Chief Robert Stoker, fire broke out just before 1 p.m. in a basement storage area of the Canyonlands Apartments at 974 East 100 South.
Witnesses say the fire moved quickly, forcing students to flee the 12 unit apartment building, including one student who leaped to safety from a second story window.
A maintenance worker who tried to dowse the flames had to be treated for burns to one of his hands, while a number of students complained of smoke inhalation.
Investigators say the fire broke out in an unoccupied area of the basement used to store faulty appliances, although the exact cause has yet to be determined.
At least ten students were displaced and being helped by the Red Cross.
Damage to the apartments is estimated at $150,000.