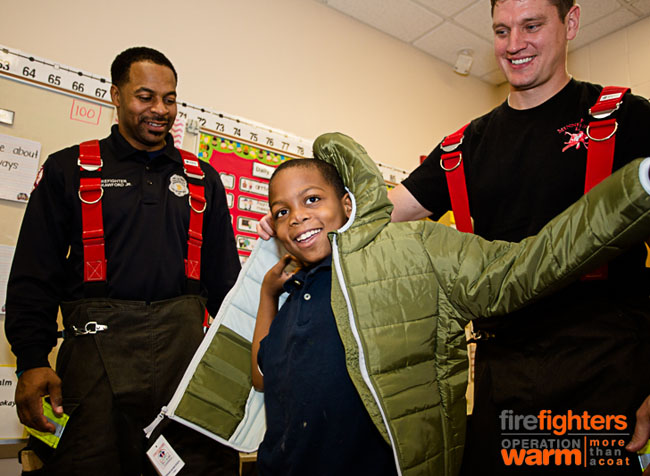 SALT LAKE CITY, UTAH – November 5, 2015 (Gephardt Daily) – The Professional Firefighters of Utah organization is hoping to purchase winter coats for some 172 elementary students in Salt Lake City.
The PFFU has selected Backman Elementary School as this year's annual recipient because 98 percent of the school's students qualify for free or reduced cost meals.
The International Association of Firefighters Local 81 and the Salt Lake City Fire Department are asking for the public's help in making this year's operation a success. The goal is to put a new coat on every second and third grader at the school.
A statement issued by Salt Lake City Fire Department Spokesperson Jasen Asay said: "Every donation significantly impacts the life of a child by translating to warmth and happiness through the gift of a brand new winter coat."
Asay said Operation Warm donates 97 cents of every dollar directly to the program and the remainder goes to overhead expenses necessary to sustaining and growing their mission.
PFFU has set up the following ways for people to help get coats to all of the students.
Donate online at Operation Warm
Go Fund Me page
Visit the Local 81 Facebook Page
Donate in person at the Firefighter Credit Union, 124 West 1400 South, in Salt Lake City.
Attend a fund-raising event at Poplar Street Pub, 242 South 200 West, on November 9 from 6-10 p.m. ($10 donation at the door)
Firefighters plan on delivering the coats at a later date to the school once they have all been purchased.
For more information on Operation Warm, please click the following link: www.operationwarm.org